This is a truly delightful and velvety smooth soup!  It has incredible flavor with blended piquillo peppers, tomato, lentils, manchego cheese and toasted almonds!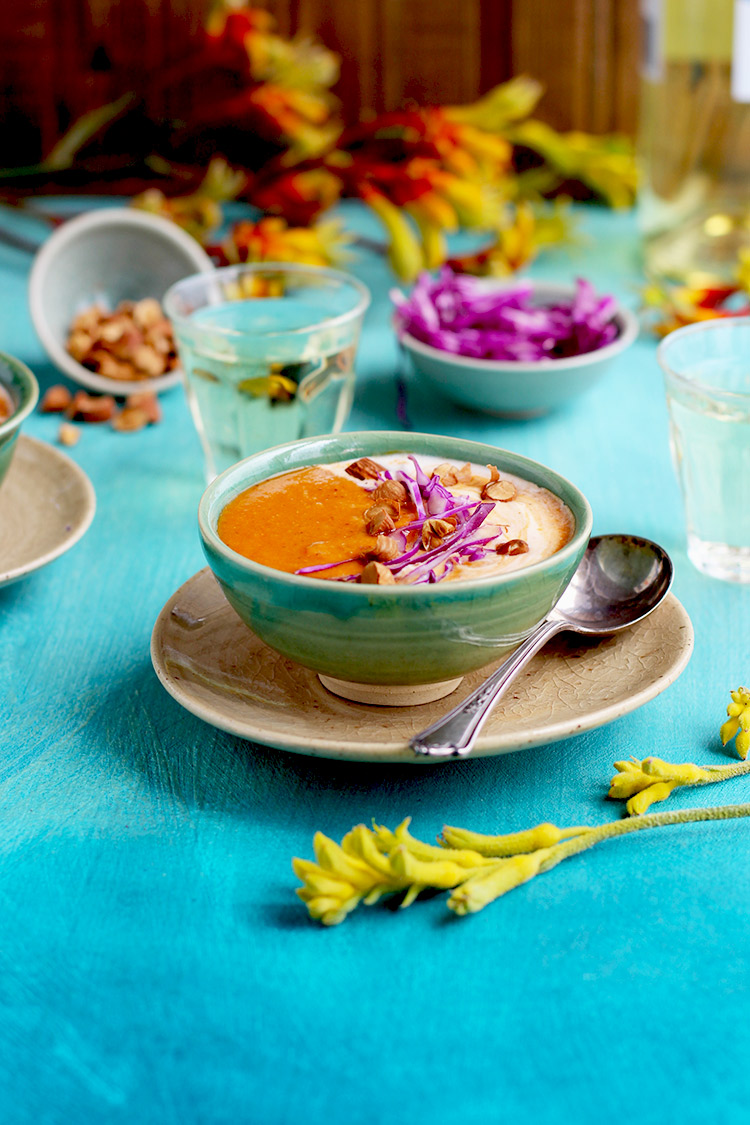 I made this soup on Wednesday and brought it to the farmers market to let my favorite ceramic artists Tom and Jasper to taste.  They shared it with two other guys and they gave me four thumbs up!  Yayyyy, I love feedback, especially positive feedback.
Yesterday, I had the great pleasure of meeting a fellow food blogger that I admire very much!  Her name is Pang from the fantastic blog "Circa Happy"!  If you don't know about Circa Happy, I highly recommend it!  She has to be one of the sweetest people/blogger out there and her photography is out of this world!  She is so sweet in person and it shows in her posts.  It is so awesome to meet someone that you have only communicated with through the internet.  We met up in San Jose for lunch and a little shopping at a very cool outside mall called Santana Row.  We talked about everything and of course food photography and blogging.  We plan to meet again!   The best part about making a big batch of soup is that it is so nice to be able to heat some up after a long day out and call it a night!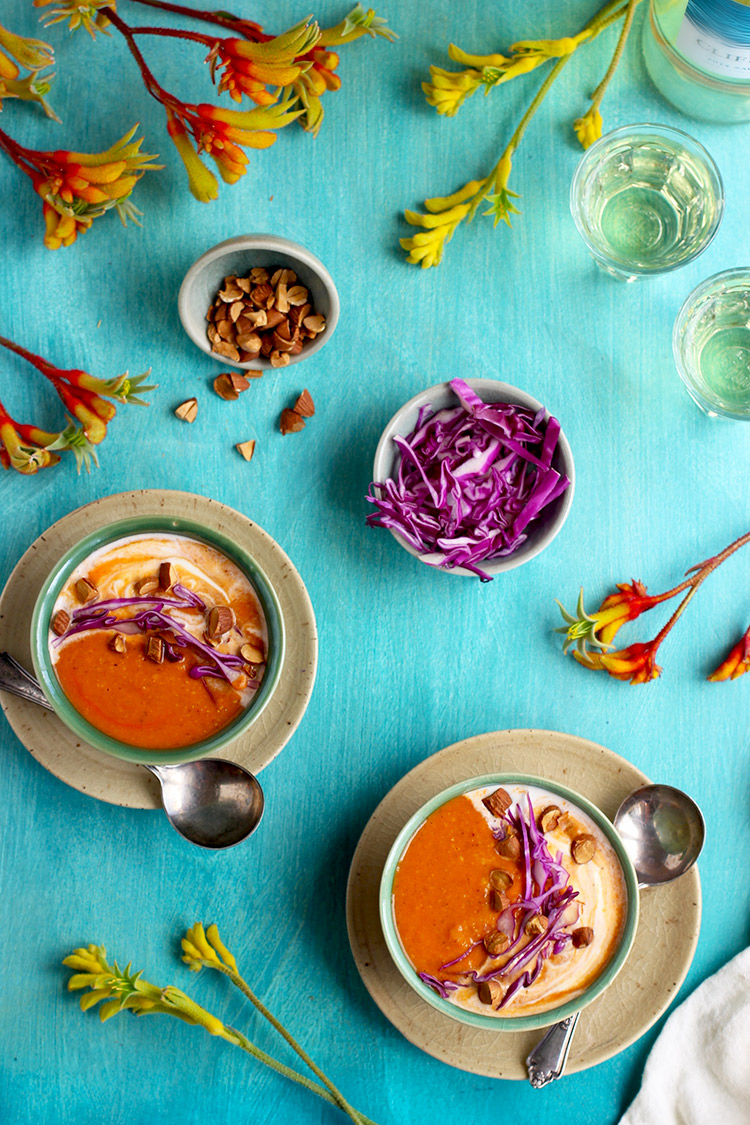 I enjoy this with a red Rioja and a white rioja, so it pretty much goes with any dry red or dry white wine.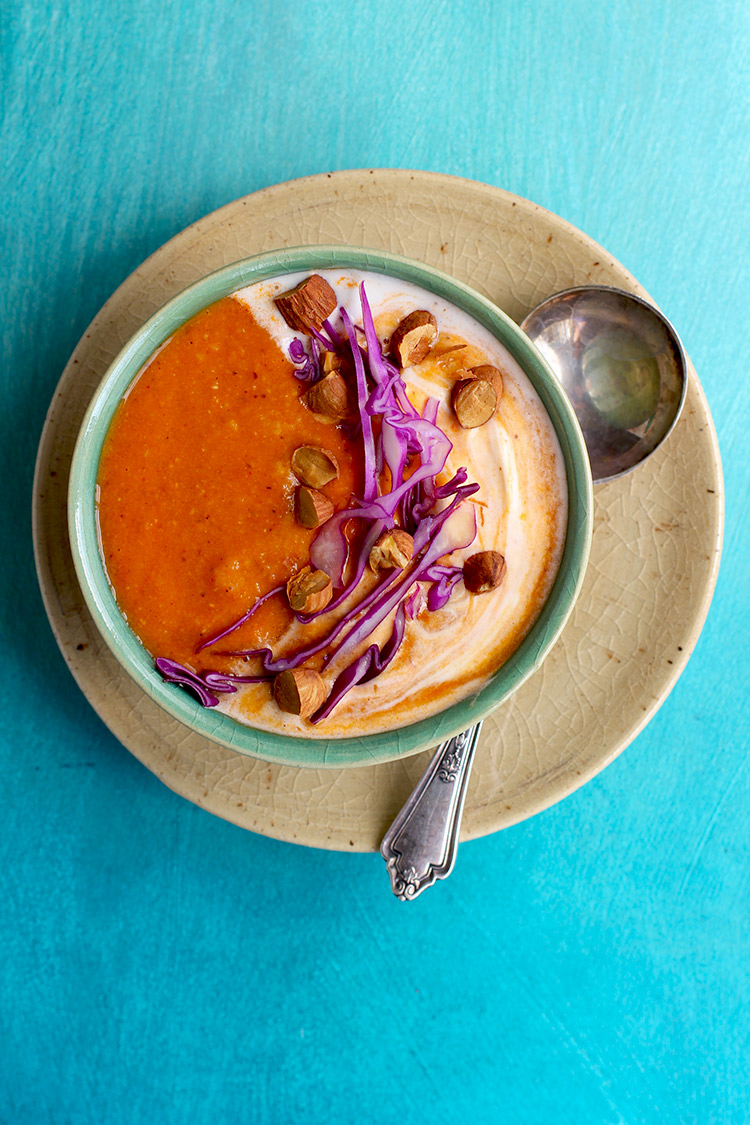 Recipe: Approx. 8 – 10 servings
Piquillo Puree
1 10 oz. Jar Piquillo Peppers (without sugar add) – rinse and remove seeds
 1 Cup Strained Tomatoes (I used Bionaturae in a glass jar) or 1 Large Tomato – grated, skin discarded
1/2 Cup Toasted Almonds
1/2 Cup Manchego Cheese ( I used raw aged 12 months – Mitica)
1 Tablespoon Sherry Vinegar
2 Teaspoons Hot Paprika
1 Tablespoon Sea Salt
Soup
2 Tablespoons Extra Virgin Olive Oil
1/2 White Onions – diced
4 Garlic Cloves – minced
1 Bouillon Cube – vegetarian – unsalted
1/4 Cup Dry White Wine
2 Cups Red Lentils – sorted  and rinsed
8 Cups Filtered Water
Garnish (optional, but so good)
Red Cabbage – thinly sliced
Creme Fraiche
Toasted Almonds – roughly chopped
Instructions:
Pre-heat the oven to 350 degrees F
Toast almonds – spread out on a cookie sheet and bake on the middle rack for 18 minutes (put a timer on so you don't burn).   Let cool, then roughly chop.
While almonds are toasting, dice the onion and add to a 4 to 5 1/2 quart soup pot or dutch oven along with the olive oil.  Sauté on medium heat.
Mince the garlic and add to onions and sauté for about 10 – 15 minutes or until garlic is slightly golden.
 Add wine and bouillon.  Mash bouillon cube to dissolve and cook until wine is syrupy.
While onions are cooking, measure lentils, sort for any rocks and rinse.  Set aside.
When the onions are finished cooking, add water and lentils.  Turn up heat to high and bring to a boil, then reduce heat to medium.  Cook for about 20 minutes or until lentils are soft.
While lentils are cooking, make the piquillo puree.  In a food processor or blender; puree the piquillo peppers, crushed tomato sauce (if using a tomato, cut in half and grate on a cheese grater with the cut side of the tomato down), almonds, cheese, vinegar, paprika and salt.  Add the puree to soup when the lentils are finished cooking.
Puree with a hand held blender (immersion blender) or you can use a food processor but it won't be as smooth.
Health benefits:
Piquillo peppers are a high source of fiber, and Vitamins C, E, A, and B.  The vitamin C content is as high as a citrus fruit.  They improve the blood circulation and reduce high blood pressure.  They also help reduce 'bad' cholesterol and promote healthy cholesterol.
Lentils
 have very high levels of soluble fiber and a good amount of insoluble fiber, which is a very good source of cholesterol-lowering fiber helps stabilize blood sugar levels giving you a steady steam of energy.  A half-cup provides about a third of the daily requirements.  Not only is the fiber good for your heart the amount of 
folate
 and 
magnesium
 is very beneficial for cardiovascular health.  They are loaded with an impressive amount of blood-fortifying 
iron
 and when paired with a food containing vitamin C, like citrus fruits or peppers the iron is enhanced, which can also increase your energy.  They are also a good source of potassium, calcium, zinc, niacin and vitamin K.  They are truly a nutritional fountain of youth.