This is a very flavorful and comforting soup!  The roasted poblano peppers add such a depth of flavor, the jalapeño adds just a touch of heat and the roasted poblano cilantro salsa puts it over the top.  It is perfect with some blue corn chips or some crunchy crostinis.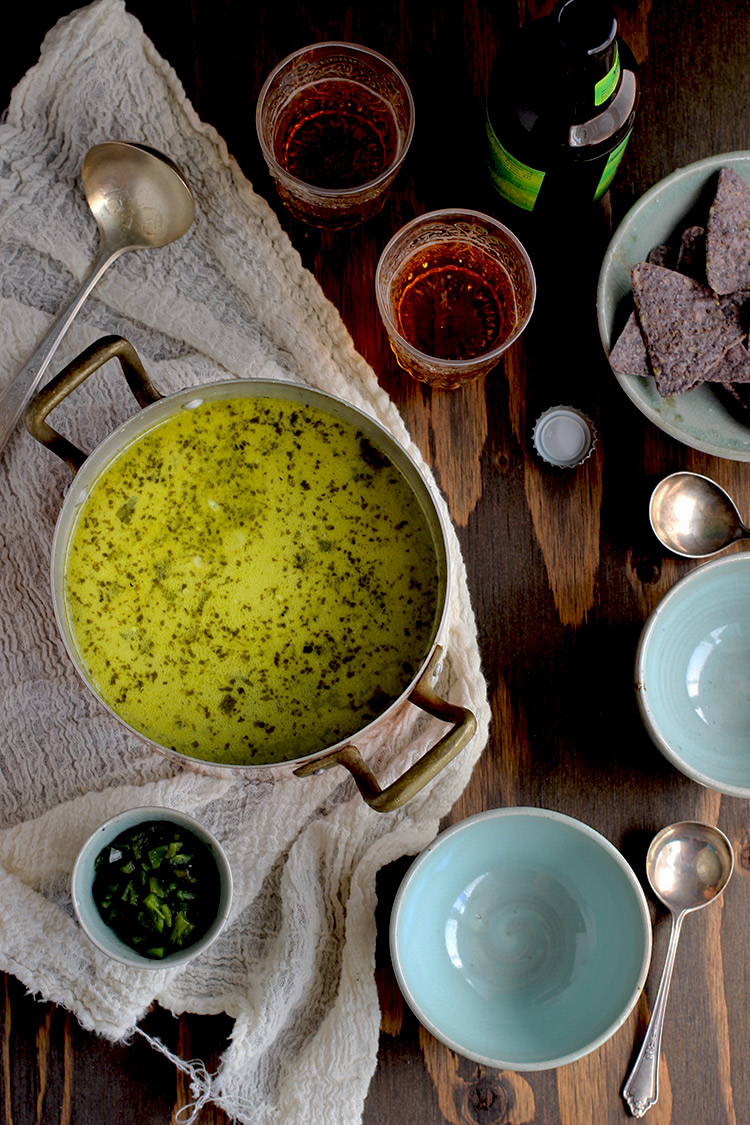 This isn't exactly a spring soup but it's so dang good, I had to share it with you!  I have no problem eating soup year round no matter what the weather.
I made a pretty big batch of the Roasted Poblano Cilantro Salsa and I thought it would be perfect with white beans!  I absolutely love this soup!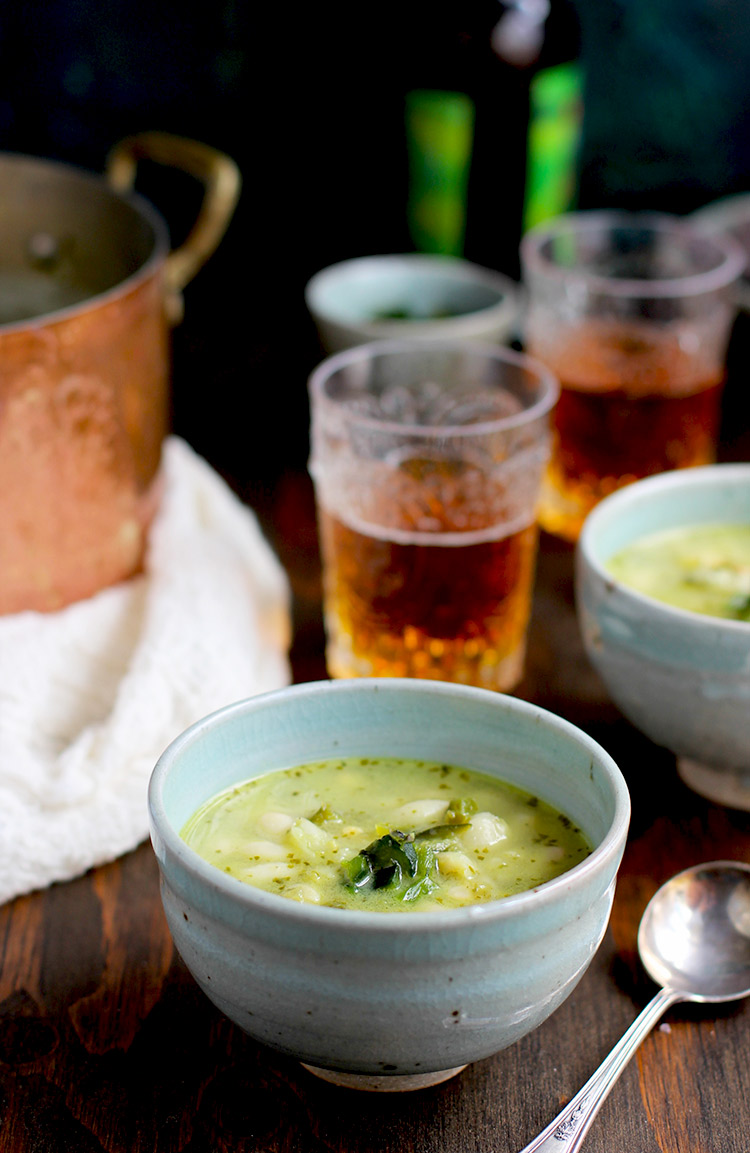 It's crazy planning a wedding and all the festivities that are involved.  You plan, plan, plan, and before you know it you are partaking in these plans and then it's over.  It becomes a blur!  There were so many friends that I hadn't seen in years, it was a bit overwhelming and it was hard to say goodbye!  Luckily Robby had four weeks off work to start our new life together as a married couple.  We are waiting to take a honeymoon but I am super excited because we are going to spend a few days on the Russian River.  My mom use to live in Sebastopol and she had a good friend that lived on the river.  I loved it there and I am very excited to go back after so many years.  Erin from The Forest Feast had posted about a trip to the Russian River and I thought I have to go back there.  She also talked about a restaurant she liked in Guerneville callled "Boon eat + drink" and she said the mac n cheese was really good.  We are definitely going to check it out because I am a mac n cheese freak!  I can't wait!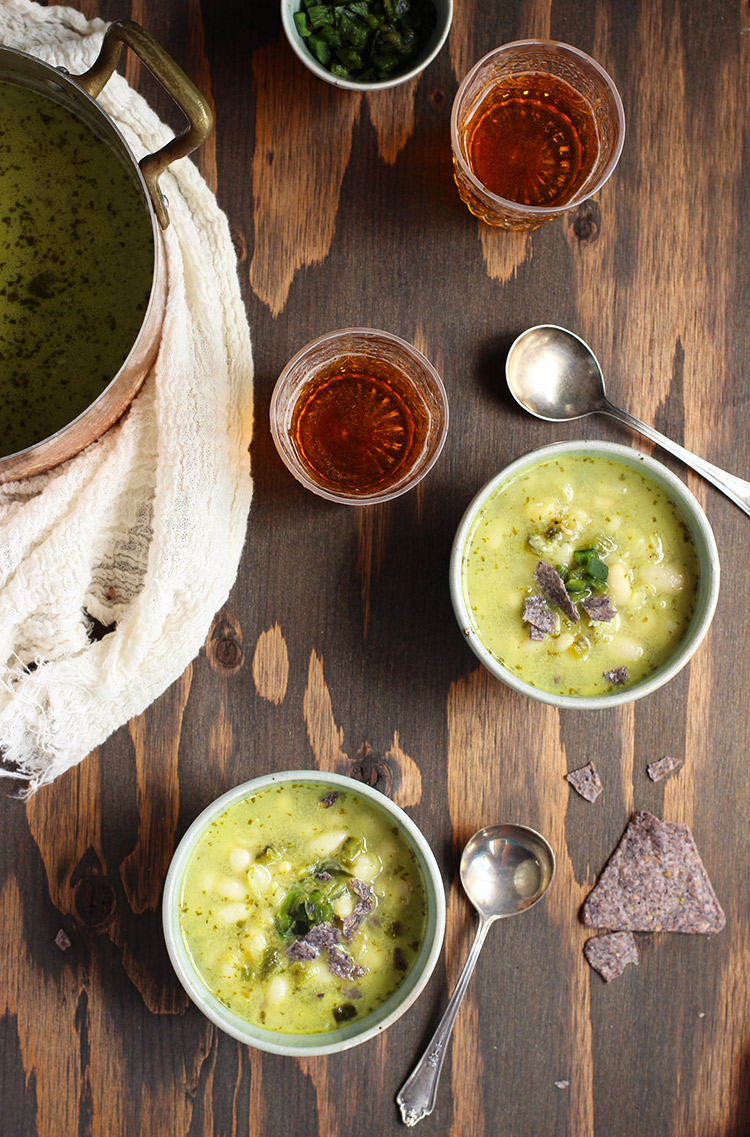 This soup is perfect with a cold beer!  I also enjoy it with a glass of white Rioja or a Sauvignon Blanc.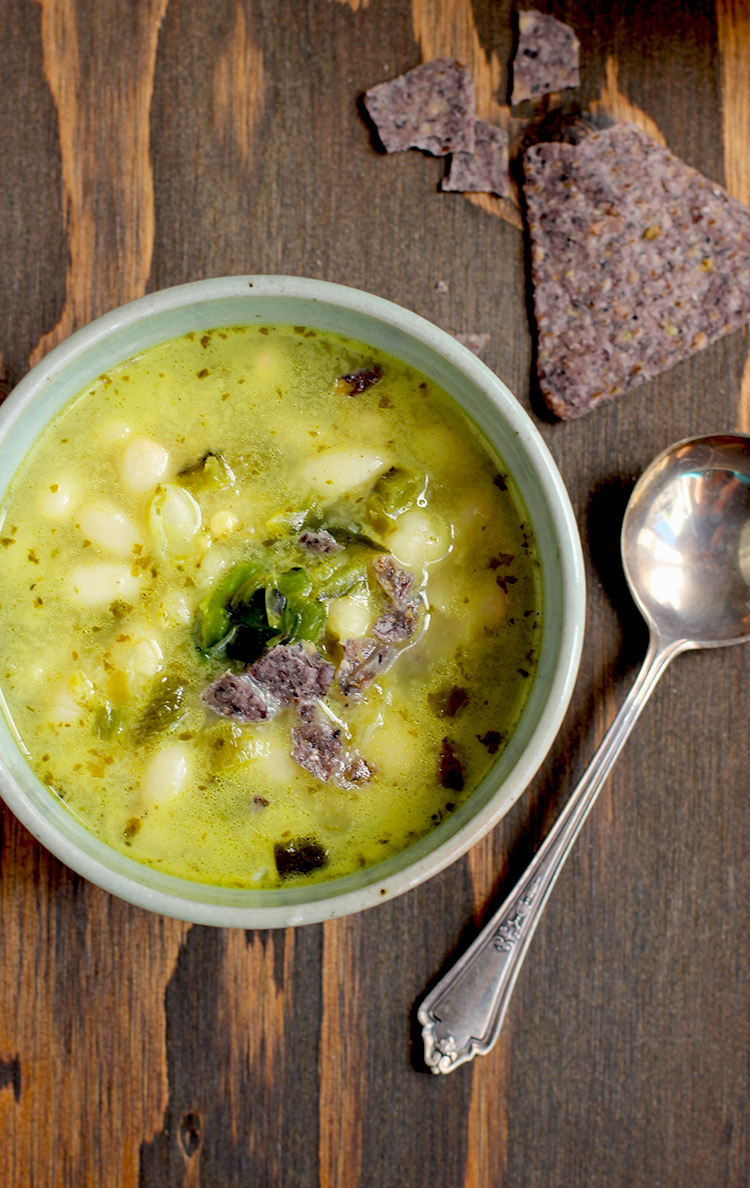 Recipe: 8 – 10 Servings
12 Cups Filtered Water plus 2 Cups
2 1/2 Cups Dried White Beans
2 Garlic Cloves – whole or minced
1 Recipe Roasted Poblano Cilantro Salsa
2 Poblano Peppers – roasted
1 Jalapeño or Serrano Pepper – minced
2 Cups Shredded Jack Cheese
3 Tablespoons Butter
3 Tablespoons Brown Rice Flour (or regular all-purpose)
1/4 Cup Dry White Wine
2 Unsalted Vegetable Bouillon Cube
2 Cups Milk – (I used 1 %)
1/4 Cup Extra Virgin Olive Oil
1 Tablespoon + 2 Teaspoons Sea Salt or to taste
1/8 Teaspoon Black Pepper or to taste
Garnish options:
Diced roasted poblano
Blue corn chips
Instructions:
Sort through the beans to remove any rocks and rinse.  Add the beans to a 4 0r 5 1/2 quart pot, then add 12 cups of water and the garlic.  Bring to a boil, then turn to medium-high heat for about 1 to 1 and a 1/2 hours or until soft.
 Roast the all of the poblanos at the same time, 2 for the soup and 2 for the salsa.
Remove the stems and seeds from the poblanos, dice 2 poblanos into small cubes and set aside until the beans are cooked.
While beans are cooking, make the Roasted Poblano Cilantro Salsa.  Add the jalapeño or serrano pepper from the soup recipe to the salsa.  (this saves the step of mincing it).  Cut the stem off, and either cut into one inch pieces or slice in half to remove seeds. (most of the heat is in the seeds)
Shred the cheese and set aside.
When the beans are soft, add the extra 2 cups of water and turn down to a low heat and add the salsa, diced poblano, olive oil, salt and pepper.
 Melt the butter on medium heat in a sauce pan, then add the flour and stir for about a minute.  Add the wine and bouillon and stir together into a paste.  Slowly whisk in a little milk and mix in well.  Bring milk to a boil and turn heat to medium-low and slowly add the cheese a little at a time.  When completely melted add to the soup.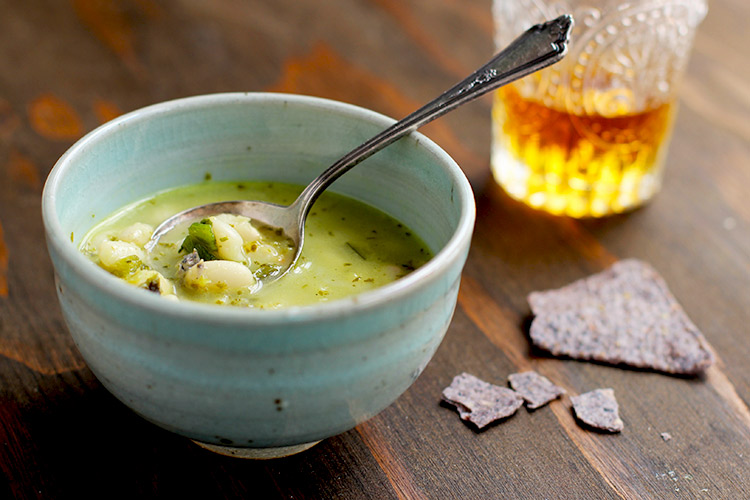 Health benefits:
White Beans are a super rich source of dietary fiber, which is good for the prevention of constipation, also helps digestive disorders like irritable bowel syndrome and diverticulosis. They are great for heart health because of their significant amounts of folate (support of red blood cell formation, one cup of the cooked beans provides 63.7% of the recommended daily intake for folate) and magnesium (lowers blood pressure).  They are good for helping insulin resistance, hypoglycemia or diabetes, and help you balance blood sugar levels while providing steady energy.
Poblano Peppers are extremely high in vitamin C; just one pepper has 95% of your daily value. They are great for your immune system; poblanos help reduce inflammation like in arthritis and asthma. They contain lycopene (a powerful antioxidant, giving many fruits and vegetables their color, especially tomatoes), which is great for the prevention of cancers in the bladder, prostate, cervix and pancreas. They are also helpful with increasing oxygen so the body can burn more calories 20 minutes after eating peppers.