If you have never tried yellow split peas before, do yourself a favor and try them.  They are much more mild than the green variety.  Unlike the green variety, they continue to be bright and cheerful after cooking.  The red, yellow and green colors in this soup are so gorgeous.  The flavor is also phenomenal with the roasted peppers, basil and pecorino cheese.  Seriously guys, it's delicious!  Serve it with your favorite crusty bread!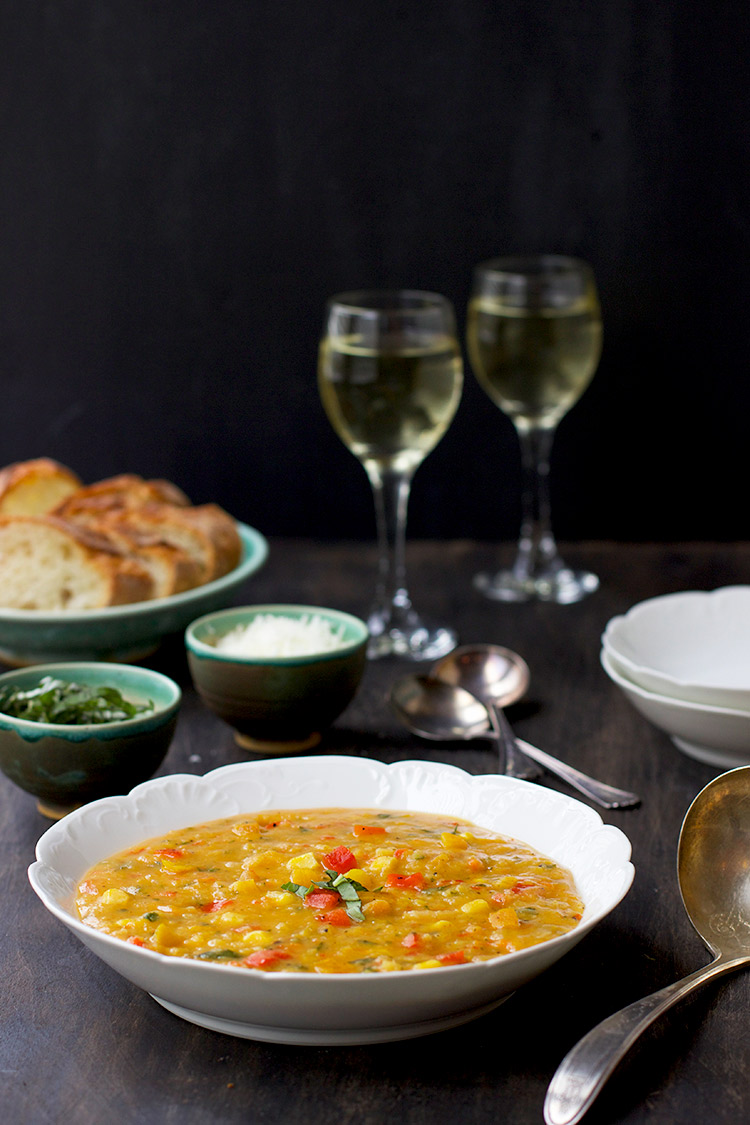 Robby and I had a great time this weekend.  Our friends Beto, Jill, Paloma and baby Severin stayed over Saturday night.  Erin, Leif and Taj came over to join us all for a taco dinner.  Erin made an incredibly delicious chocolate basil tart with a grapefruit jam to go on top.  It was a fun night full of food, wine, laughter and nonstop talking as it always is with this group.
On Sunday, we had a beach picnic, which is always a great time with Paloma!  Paloma insisted on becoming a mermaid, so Beto made her a mermaid tail out of sand while Robby made a barricade of seaweed so Paloma wouldn't get washed away.  They decorated it with seaweed, shells and sand crab shells.  She loved it!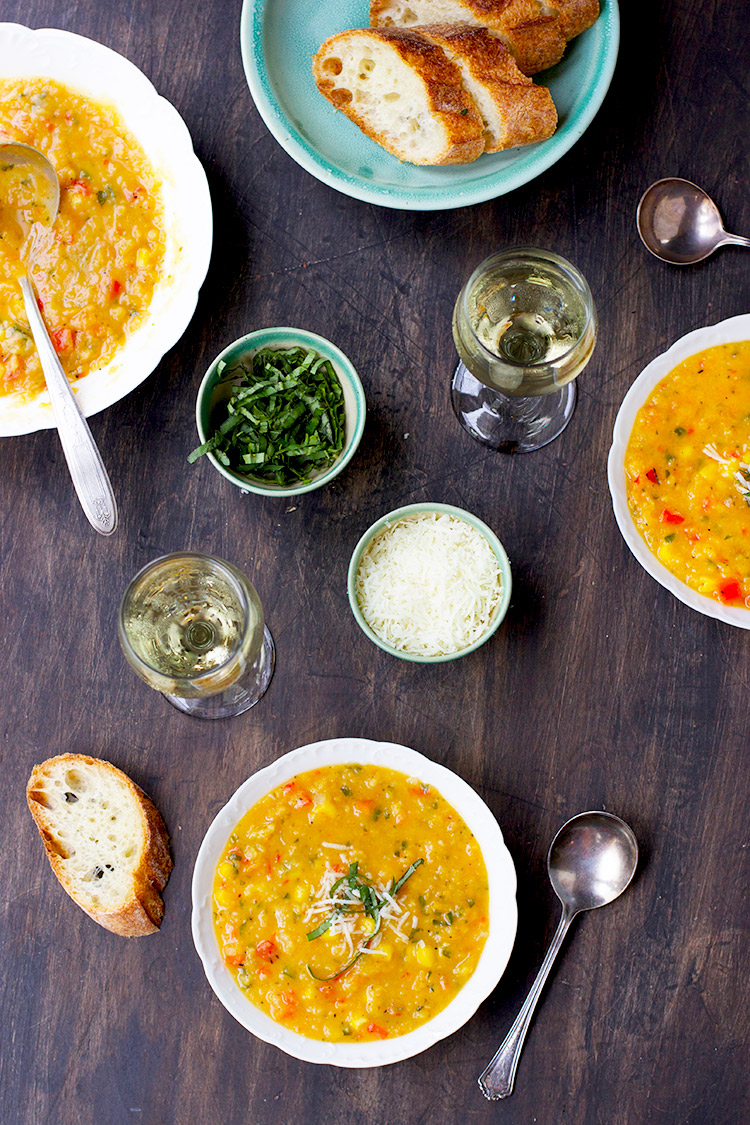 I was just on Thalia's blog "Butter and Brioche" (if you haven't been to her blog, check it out!) and she just posted an incredible Tiramisu ice cream dessert.  I thought it was ironic because she is posting a cold ice cream dessert in the middle of the Australian winter while I'm posting a hot soup recipe in the middle of summer in California.  It just goes to show that you can eat whatever you want regardless of the weather!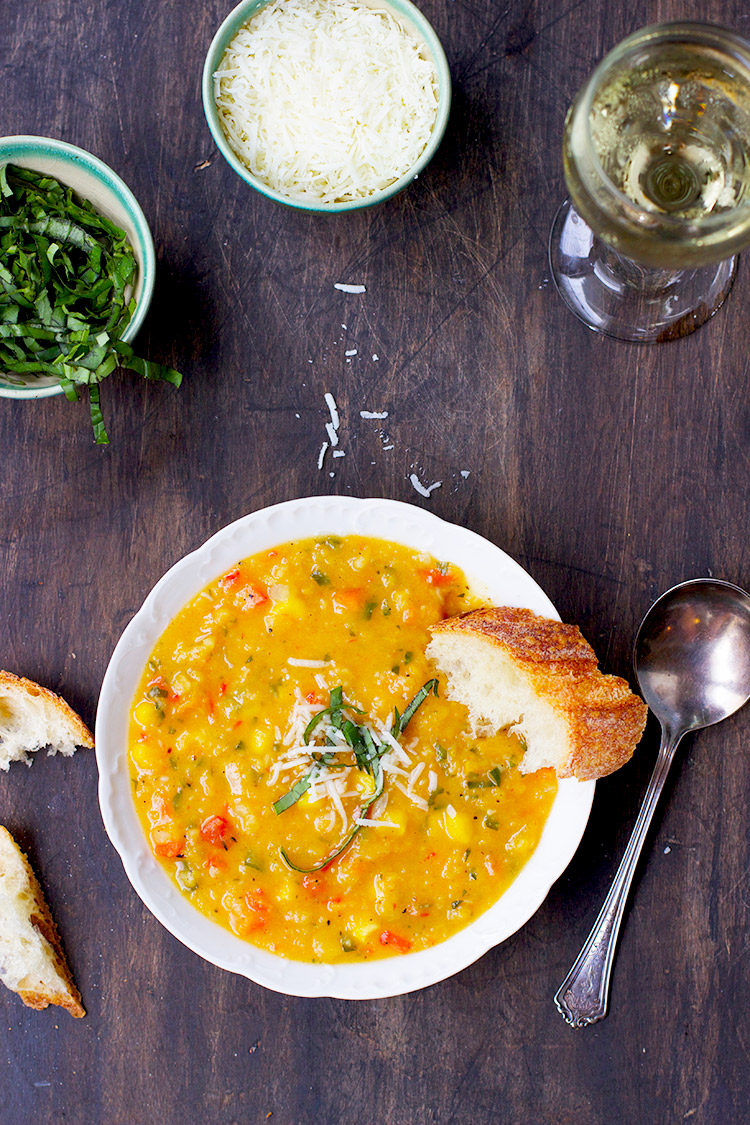 This soup is perfect with a nice cold glass of Verdejo!  Or a crisp white wine of your choice.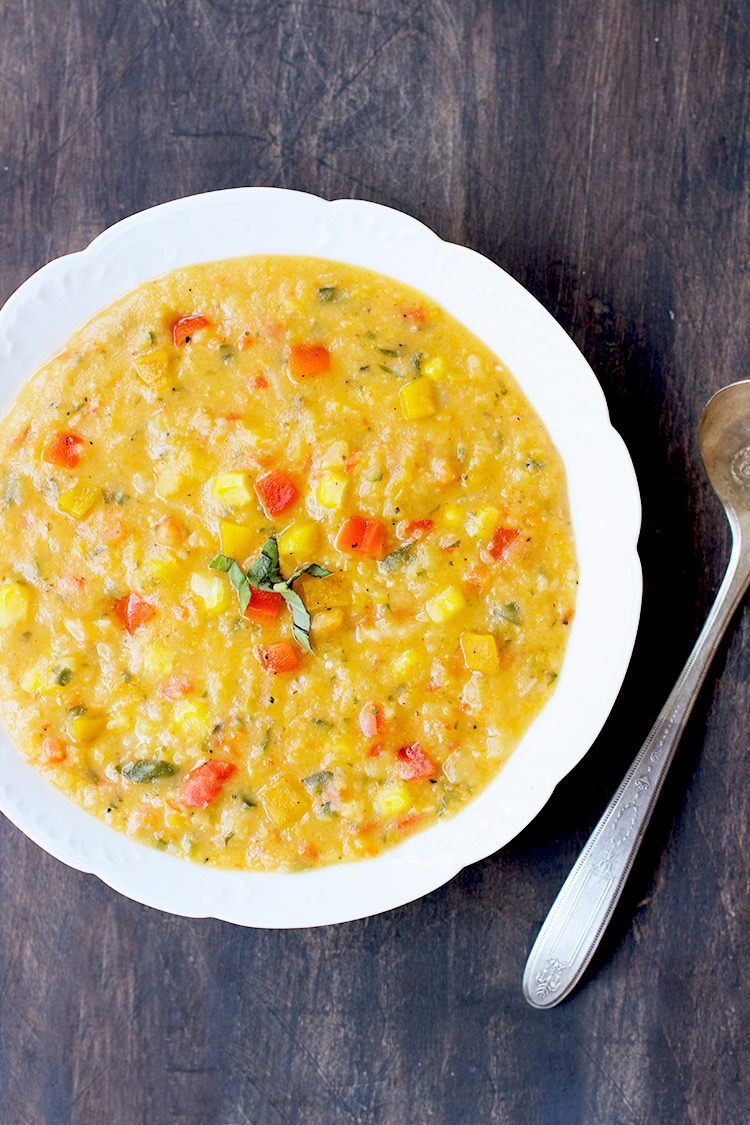 Recipe: 8 – 10 servings
1/2 White Onion – diced
2 Tablespoon Extra Virgin Olive Oil
2 Cloves Garlic – minced
1/3 Cup Dry White Wine
2 Unsalted Vegetable Bouillon Cubes
10 Cups Filtered Water
2 Cups Dried Yellow Split Peas
2 (about 1 1/4 cup) Red Bell Peppers – roasted – diced
2 (about 1 1/4 cup) Yellow Bell Peppers – roasted – diced
1 Cup Pecorino Romano Cheese – finely shredded – packed
1 Cup Fresh Basil – packed – minced
1 Tablespoon Hot Paprika
1 Tablespoon Fresh Squeezed Lemon Juice
1/2 Cup Fresh or Frozen Corn
2 Teaspoons Sea Salt
1/2 Teaspoon Black Pepper
Instructions:
Add the onions to a saute pan with olive oil and saute on medium-low heat for 5 minutes, add the garlic and continue cooking for 5 – 7 more minutes until the garlic starts to brown.
Then add the white wine and bouillon cubes, cook until wine is reduced and syrupy.
Add the 10 cups of filtered water to the onions.  Measure and sort thru the peas to ensure that there are no rocks. Rinse them in a colander and add them to the onions.  Bring to a boil, then reduce heat to medium and simmer for 45 minutes to an hour or until peas are super soft.
 While the peas are cooking, roast the peppers and then put them into a covered dish to steam for 10 minutes.  Remove the stem and seeds and then dice the peppers. Add them to the peas.
Shred the cheese and mince the basil. Set aside.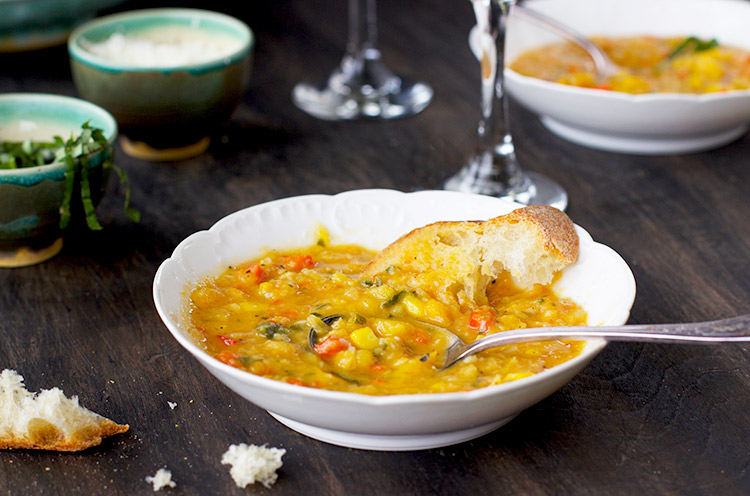 Health benefits:
 Bell Peppers are matured green bell peppers and have more nutrition as they mature.  They are super high in vitamin A which helps to support healthy eyesight, especially night vision and are extremely high in vitamin C, so much so they have twice as much as an orange which makes it really good for the skin.  Red peppers are one of the highest veggies in lycopene, and have been successfully tested in the prevention of many cancers.  They have a good source of the antioxidant mineral manganese and B-complex and vitamin E.  They help reduces 'bad' cholesterol, helps controls diabetes and helps reduce pain.  They are also a good source of fiber, folate, vitamin K, molybdenum and manganese.
Fresh Basil has anti-aging, anti-inflammatory and anti-bacterial properties.  The herb contains exceptionally high levels of beta-carotene and vitamin A and is rich in zea-xanthin an anti-oxidant that helps protect age-related macular disease.  It has a good amount of Iron and also helps to detoxify the liver.  It contains phytochemicals that may lower cortisol, a hormone secreted when you're stressed that causes weight gain, so add some fresh basil to you water or tea.