I guarantee this soup will satisfy your comfort food cravings.  It has such amazing flavors from the cheese with the combination of the roasted red, yellow and poblano peppers.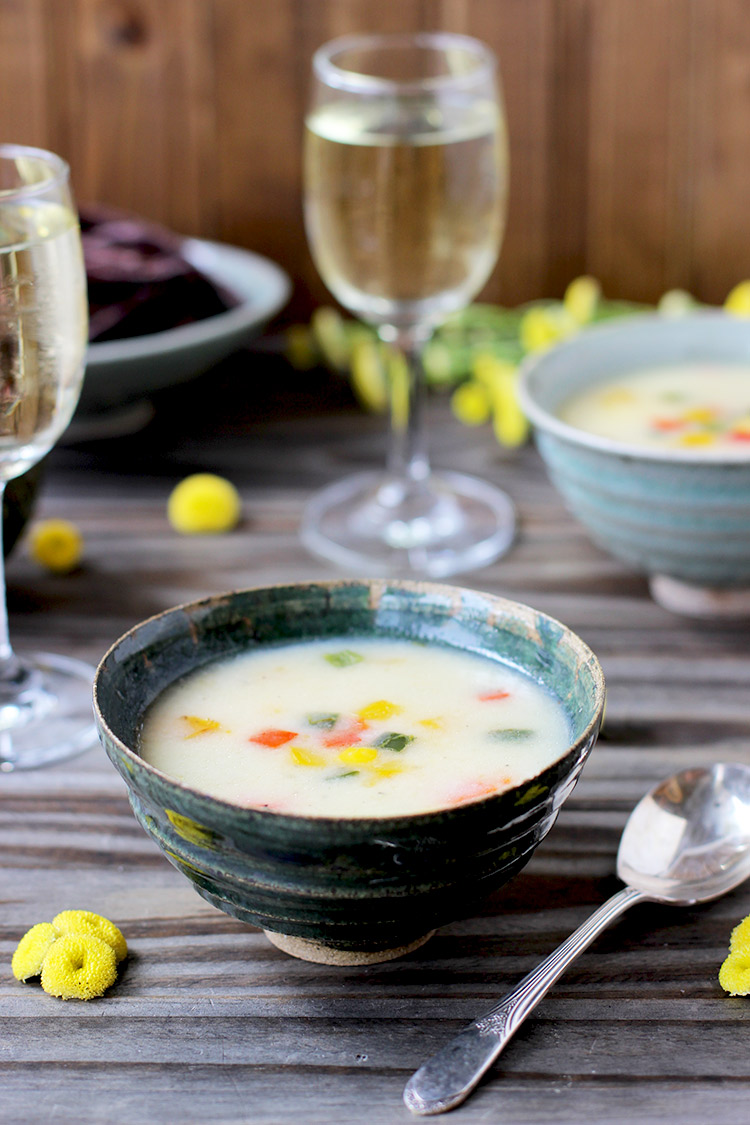 Last Saturday, Robby and I had a nice lunch at Bittersweet Bistro before heading to Palo Alto to meet Beto and Jill's new baby boy Severin.  It is so amazing to meet a beautiful soul such as Severin!  He is the cutest little guy ever and he looks just like Beto but he also looks like Jill and Paloma!  I thought it would be nice to bring some comfort food to Beto and Jill.  I made homemade beans, homemade fresh tomato sauce and this soup.  Jill hasn't slept much so Robby, Beto, Paloma and I went to dinner at a great sushi restaurant called Kanpai, which was delicious.  Sunday was a lazy day around the house in the morning and then we had a nice afternoon at the beach for lunch.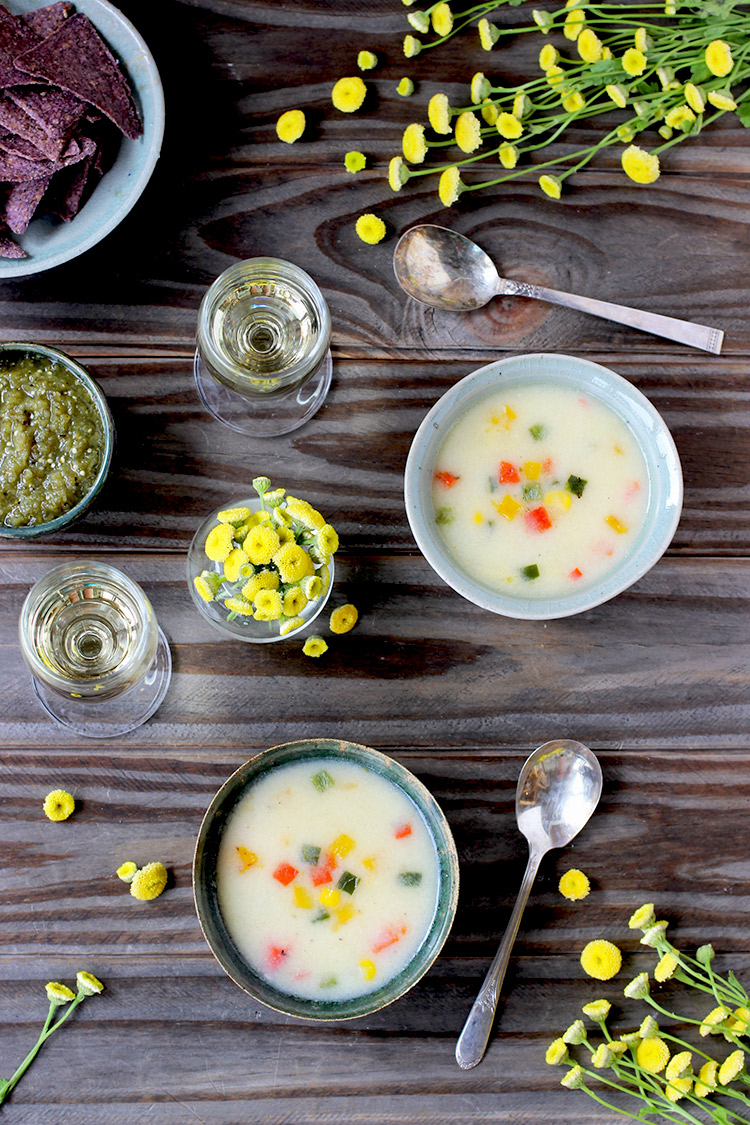 A nice crisp white wine is simply the best with this soup.  Try a Sauvignon Blanc, a dry Riesling, Pinot Gris or a white Rioja.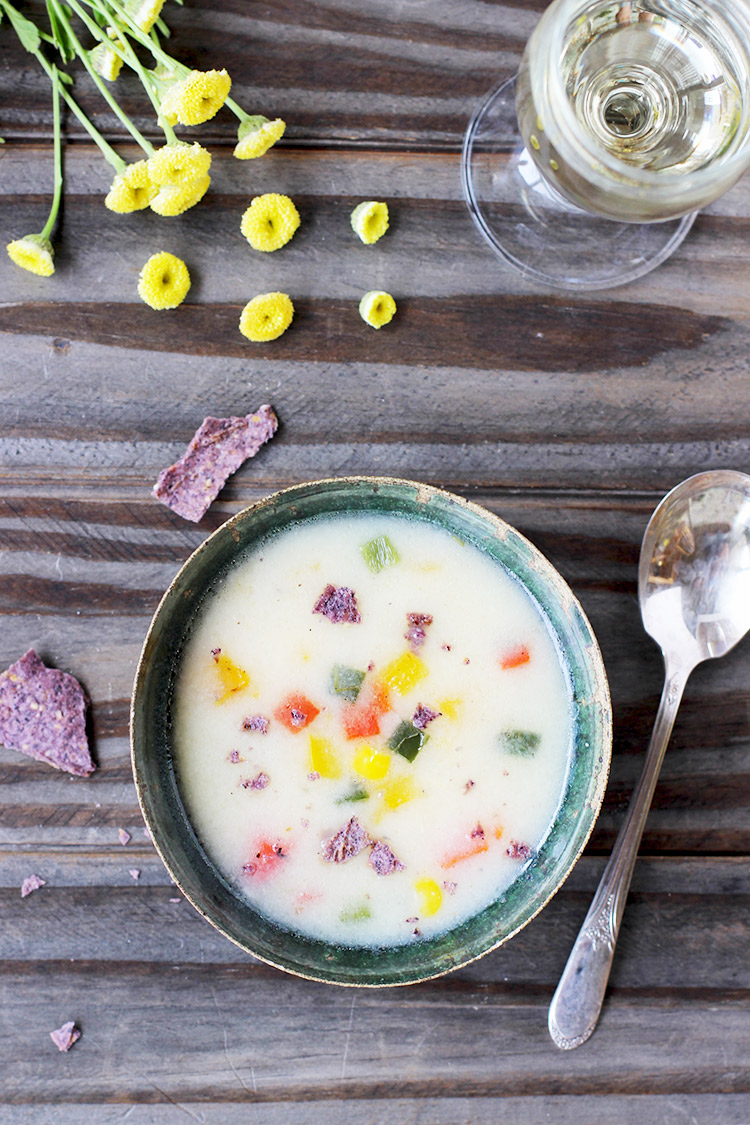 Recipe – Approx. 8 – 10 servings – about 16 cups
5 (4 lb.) Large Russet Potatoes – peeled and cut into 1/2 inch cubes

3 Tablespoon Extra Virgin Olive Oil
1/2 White Onion – diced
3 Cloves Garlic – minced
1/4 Cup Dry White Wine
1 Red Bell Pepper – roasted
1 Yellow Bell Pepper – roasted
1 Poblano Pepper – roasted
2 Cups Fresh or Frozen Corn
10 Cups Filtered Water
2 Cups Low Fat Milk
3 Cups Cheddar Cheese (I used Organic Valley Raw Sharp Cheddar)
1/2 Teaspoon Black Pepper
1 1/2 to 2 Tablespoons Sea Salt or to Taste
Instructions:
Place the cubed potatoes into a large bowl covered in filtered water.
Add the onion and olive oil to a 5 1/2 quart pot or dutch oven and sauté on medium-low heat for 5 minutes then add the garlic and cook until garlic just start to brown.
Add wine and cook until reduced and it has a syrupy consistency.
Roast the peppers.  Dice the peppers into small cubes and set aside.
Add the water and potatoes to the onions then cook on high heat, bring to a boil, then reduce heat to medium and cook 25 minutes or until potatoes are soft.
Take half of the potatoes and some water then puree in food processor or blender.
Pour pureed potatoes back in the pot and add the milk, salt and pepper.  Cook for a few minutes to heat it back up and slowly stir in the cheese, cook until cheese is completely melted.
Add the peppers and corn.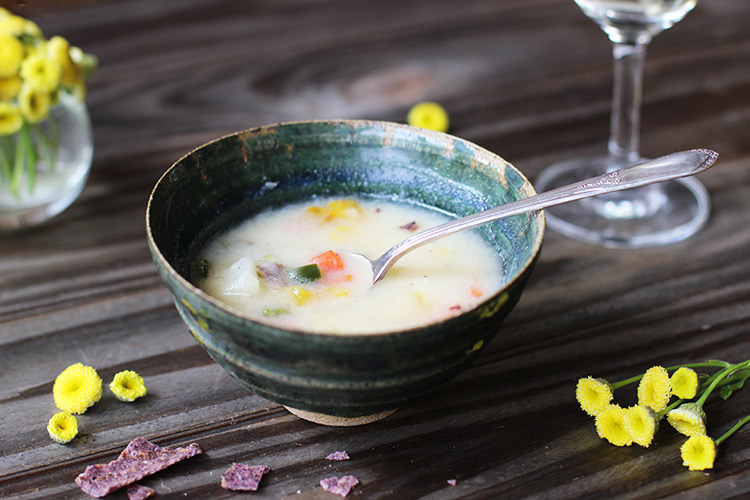 Health benefits:
Poblano Peppers are extremely high in vitamin C; just one pepper has 95% of your daily value.  They are great for your immune system and help to reduce inflammation like in arthritis and asthma. They contain lycopene a powerful antioxidant, giving many fruits and vegetables their color, especially tomatoes, which is great for the prevention of cancers in the bladder, prostate, cervix and pancreas. They are also helpful with increasing oxygen so the body can burn more calories 20 minutes after eating peppers.
They're also full of vitamin A, vitamin K, and potassium.
 Bell Peppers are super high in vitamin A which helps to support healthy eyesight, especially night vision and are extremely high in vitamin C, so much so they have twice as much as an orange which makes it really good for the skin.  They have a good source of the antioxidant mineral manganese and B-complex and vitamin E.  They help reduces 'bad' cholesterol, helps controls diabetes and helps reduce pain.   Red peppers are one of the highest veggies in lycopene, and have been successfully tested in the prevention of many cancers.  They are also a good source of fiber, folate, vitamin K, molybdenum and manganese.