This is a very spicy yet comforting soup full of peppery goodness!  The combination of different peppers gives this soup a unique quality not found in a plain roasted red pepper soup.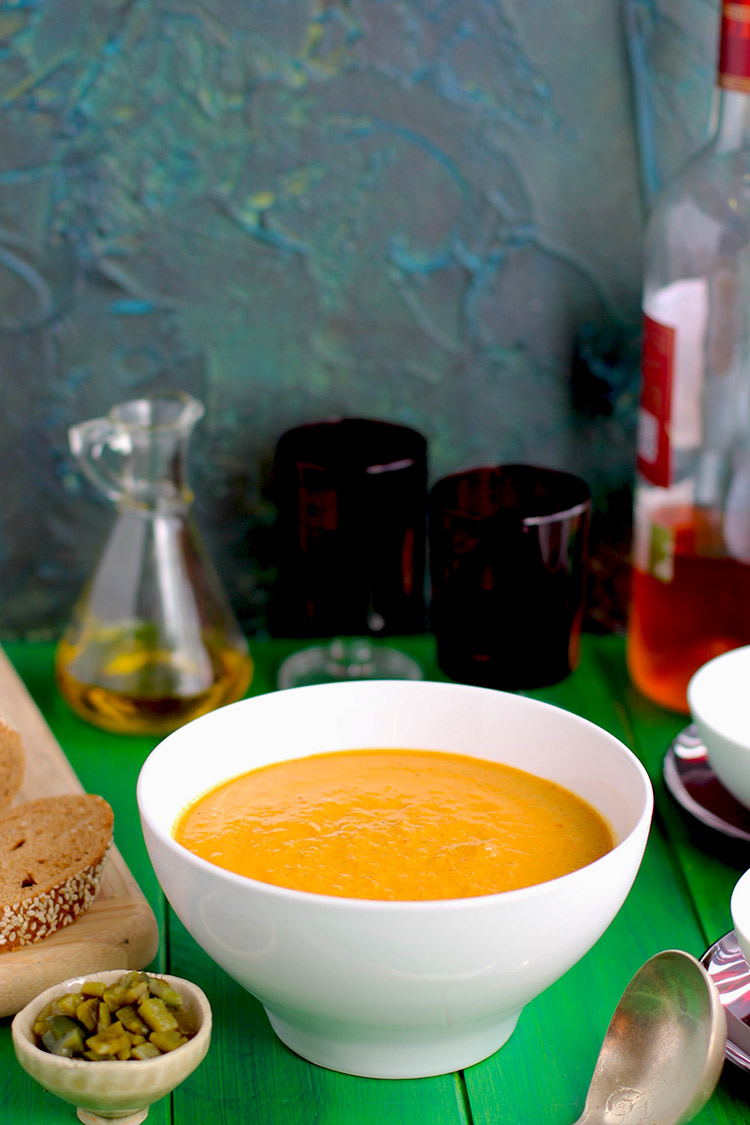 It has been dumping rain the last few days and I can't seem to get spicy roasted pepper soups off my mind.  So I made a big batch of this soup, which I'll have no problem eating all week long.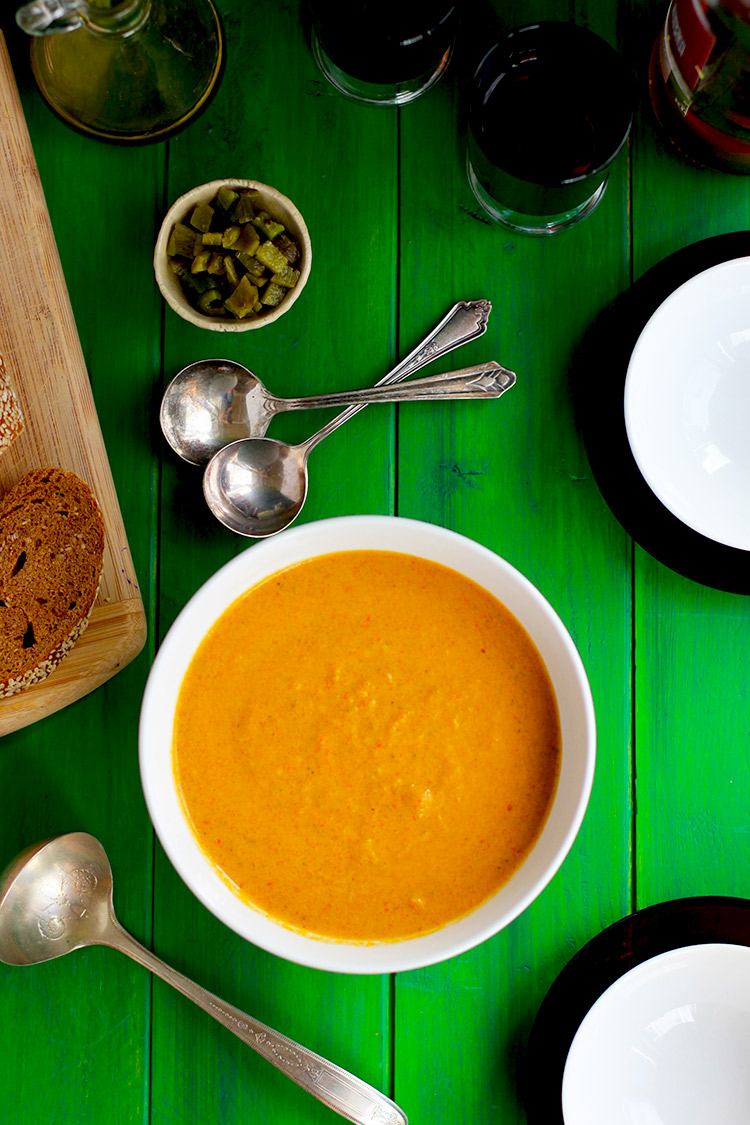 Try this soup with a crisp dry white wine like a Spanish Versejo, White Rioja or Cava.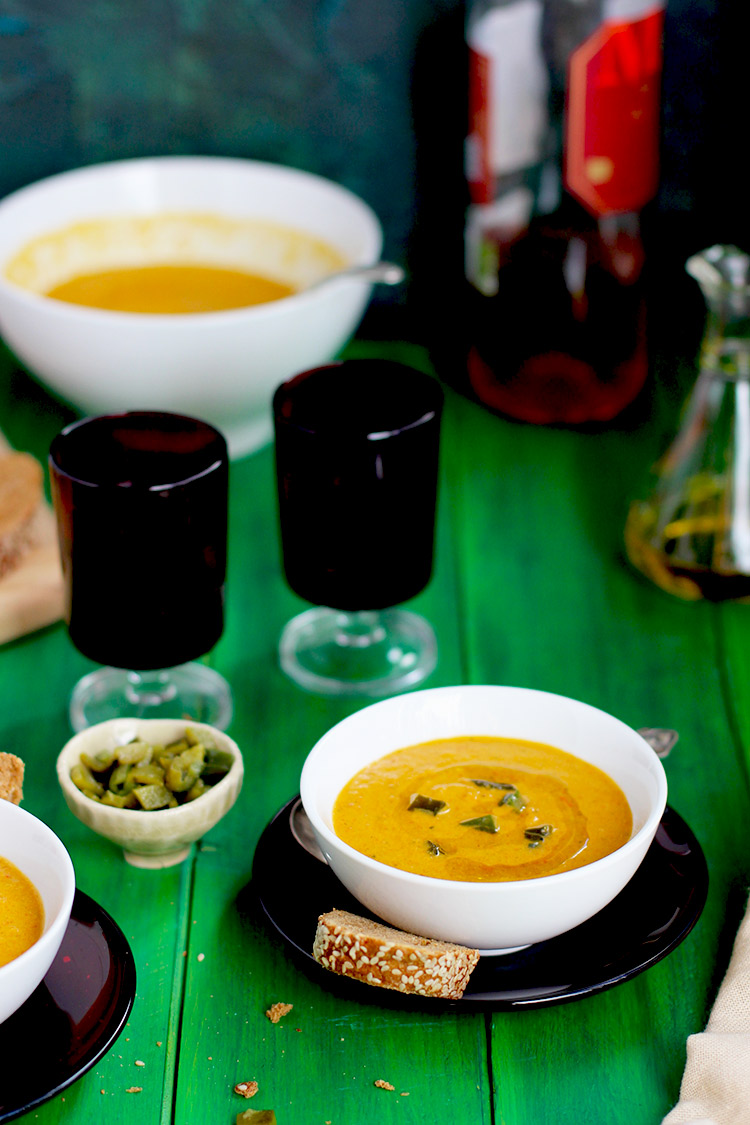 Recipe: 4 – 6 servings
*you can use any peppers you want really!  If you don't want it hot, omit the Hungarian wax, serrano and jalapeños.  Replace with 2 poblano or bell peppers.
1 Red Bell Pepper
2 Orange Bell Peppers
3 Poblano Peppers
10 Mini Bell Peppers (can sub 1 or 2 yellow bell peppers)
3 Padron Peppers
3 Hungarian Wax Peppers
4 Red or Green Serrano Peppers
2 Jalapeño Peppers
1/2 White Onion – diced
3 Cloves Garlic – minced
1 Tablespoon Extra Virgin Olive Oil
1 Container Mascarpone Cheese
1 Cup Half and Half
2 Cups Filtered Water
2 Teaspoons Sea Salt – or to taste
*Garnish with diced roasted poblano
Instructions:
Roast all the peppers, remove stem, seeds and skin.
Add onion, garlic and olive oil to a sauté pan on medium-low heat and cook until onions are soft and garlic just starts to brown.
Puree peppers, onions and mascarpone in two or three batches and pour into a soup pot along with half and half, water and salt.
Cook on medium-low until hot.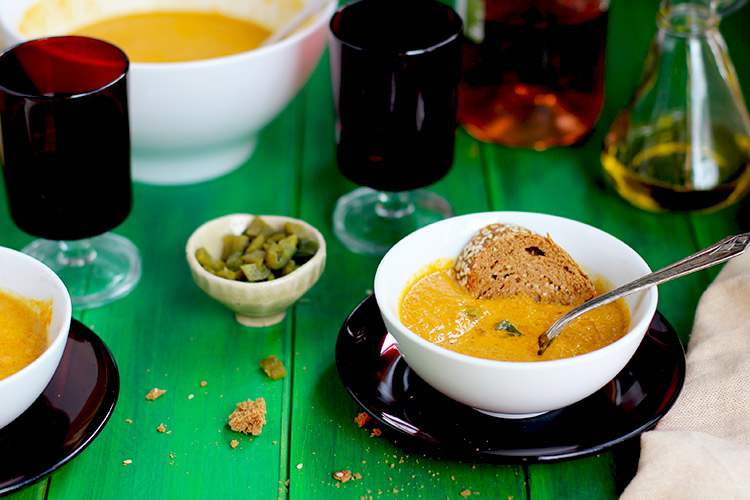 Health benefits:
Red Bell Peppers are matured green bell peppers and have more nutrition as they mature.  They are super high in vitamin A which helps to support healthy eyesight, especially night vision and are extremely high in vitamin C, so much so they have twice as much as an orange which makes it really good for the skin.  Red peppers are one of the highest veggies in lycopene, and have been successfully tested in the prevention of many cancers.  They have a good source of the antioxidant mineral manganese and B-complex and vitamin E.  They help reduces 'bad' cholesterol, helps controls diabetes and helps reduce pain.  They are also a good source of fiber, folate, vitamin K, molybdenum and manganese.
Poblano Peppers are extremely high in vitamin C; just one pepper has 95% of your daily value.  They are great for your immune system and help to reduce inflammation like in arthritis and asthma. They contain lycopene a powerful antioxidant, giving many fruits and vegetables their color, especially tomatoes, which is great for the prevention of cancers in the bladder, prostate, cervix and pancreas. They are also helpful with increasing oxygen so the body can burn more calories 20 minutes after eating peppers.  They're also full of vitamin A, vitamin K, and potassium.