This potato hash is an extremely satisfying dish full of texture and spice.  It has a wonderful element of freshness from the fresh cilantro, jalapeno, chives, tomato and avocado.  It is also great when it is spread out in a Pyrex dish and topped with jack cheese and put under the broiler until the cheese is bubbly and melted.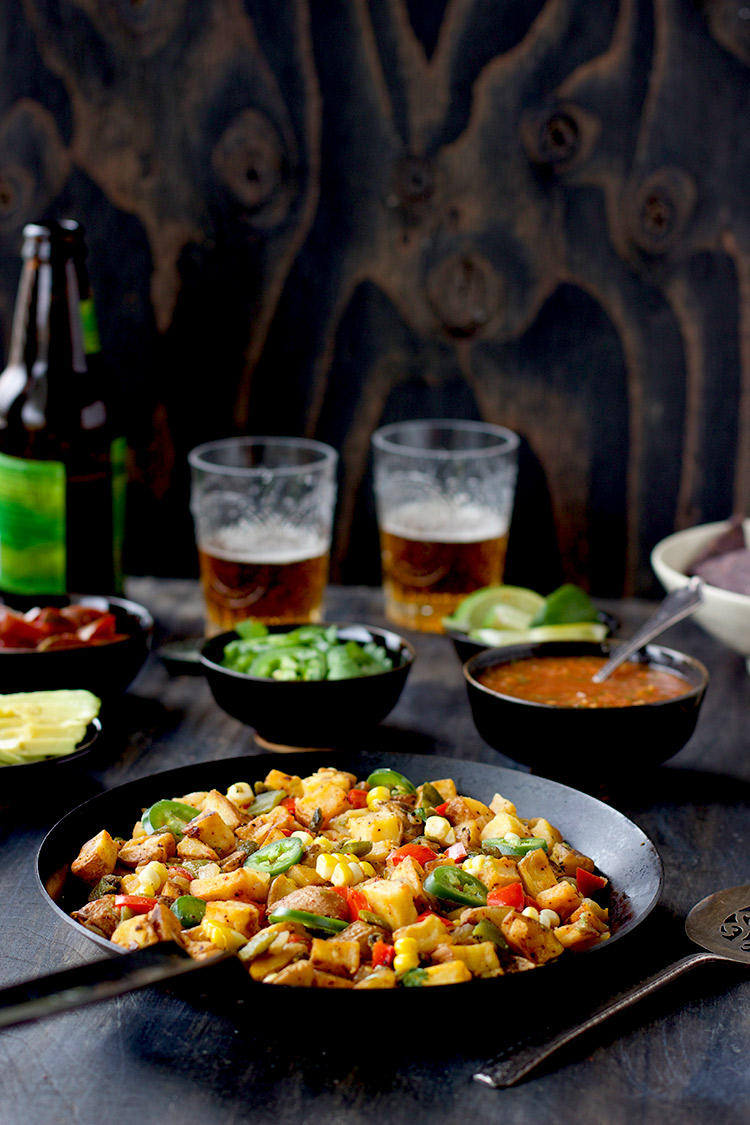 My mom and I went backpacking in Nepal many years ago on a trek in the Himalayan Mountains.  We started at Pokhara Valley and trekked halfway around Annapurna and back again.  I could barely walk after the first three days of the seven-day journey.  So we decided to stay a couple nights in an incredible little village that had lots of water buffalo roaming around.  There were these Sherpa who would trek from this tiny village down to the Pokhara Valley to get supplies for the villagers as well as for travelers like ourselves.  They made this journey on foot and by on foot, I mean barefoot or in flip-flops.  They had these giant baskets on their backs that were secured by a strap across their foreheads.  Some of these baskets would be filled with beer and soda in glass bottles!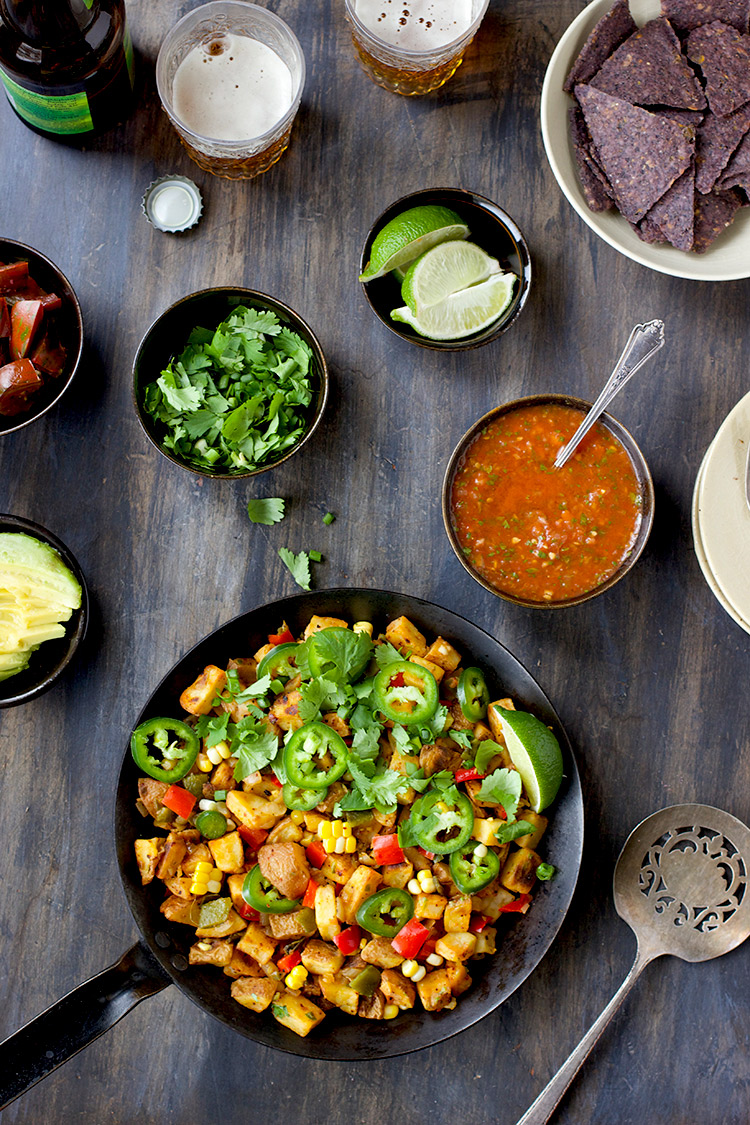 The man who ran the place where we stayed at had opened a beer that had been recently brought up by a Sherpa and half the beer erupted out because of the continued shaking during its long voyage.  After seeing that I said, "oh hell no, that will not happen to me, I will not loose a single drop".  Needless to say, he did not believe it was possible.  I took a bottle opener and tapped the cap for a couple of minutes, then I took the opener and barely lifted the cap just enough to let out some of the pressure.  I tapped on the cap a bunch more times, lifted the cap up a little more and continued doing this until the cap was off and not a drop of beer came out.  The man was in utter shock and said he had been losing half his beer for as long as he could remember.  He couldn't stop thanking me.  That made my day!  I'm sure he passed this knowledge on.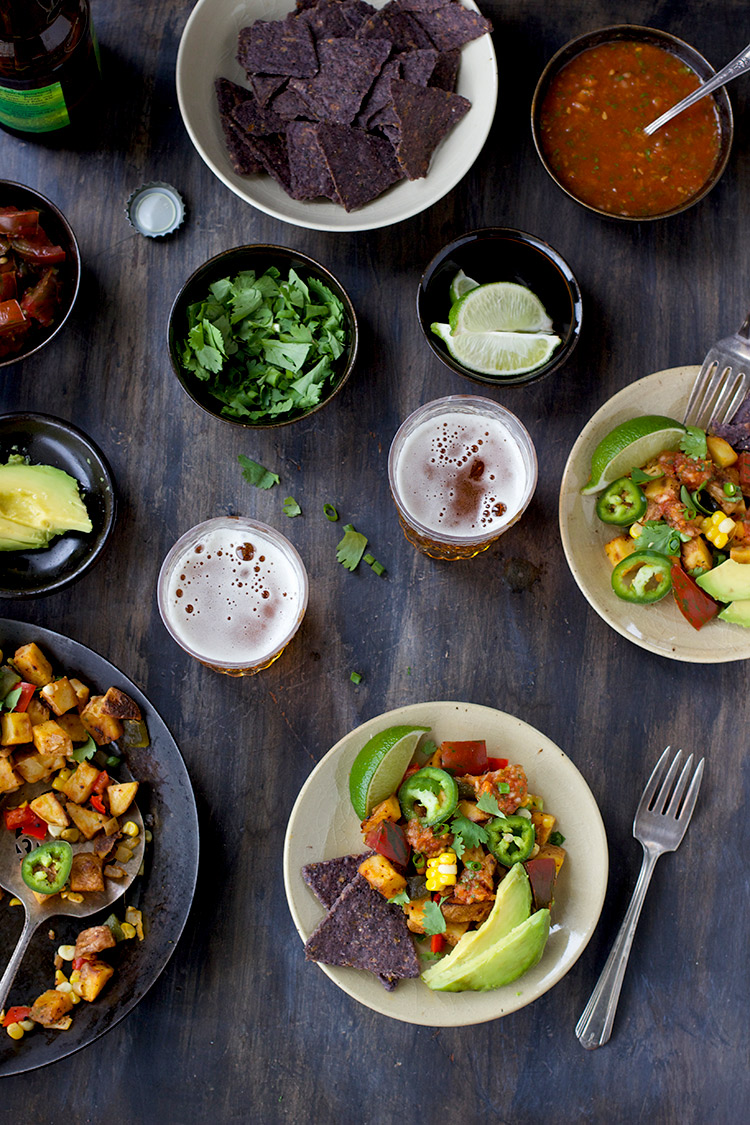 This recipe is perfect with a nice cold Mexican beer.  Well, maybe not for breakfast, ha ha!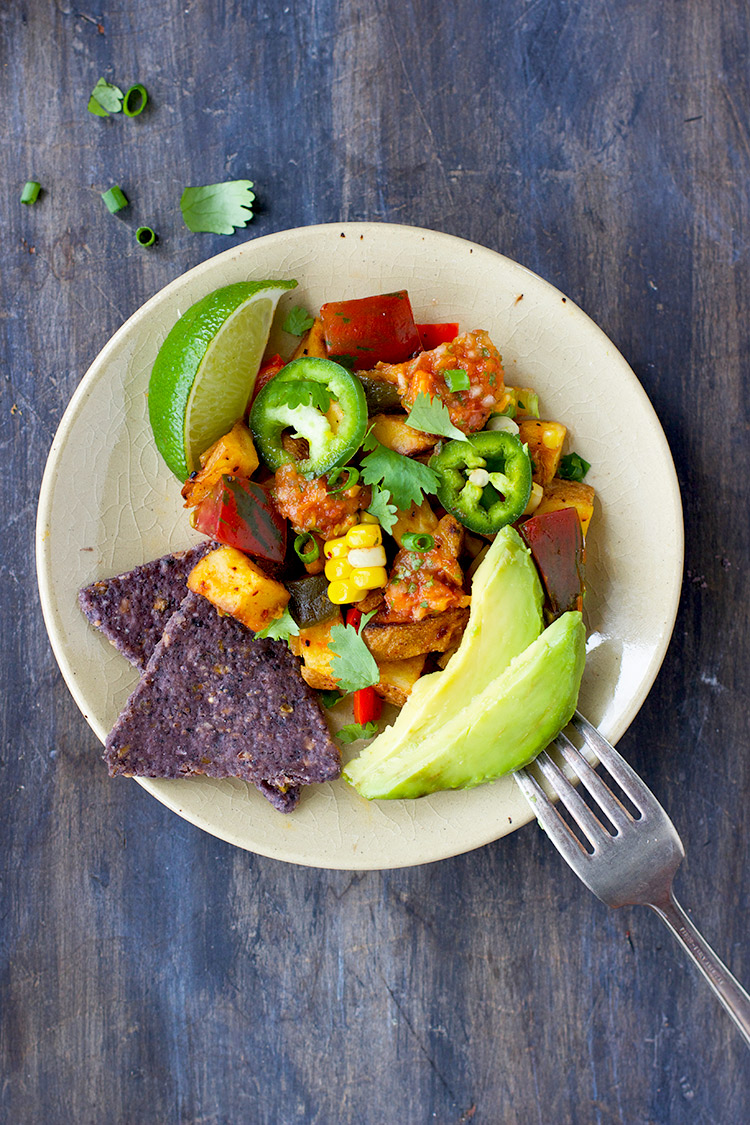 Recipe: 3 – 6 Servings
2 1/2 Pounds Potatoes medium high heat
2 Tablespoons White Vinegar
1 Poblano – roasted – de-seeded – de-stemmed – diced

1 Medium Red Bell Pepper – diced

1 Jalapeno – minced – optional
1 Cob of Corn – cut off the cob or 1/2 Cup Frozen Corn – thawed
3 Tablespoons Extra Virgin Olive Oil
1/2 Large White Onion – diced
2 Garlic Cloves – minced
2 Teaspoon Ancho Powder
1 Teaspoon Paprika
1 1/2 Teaspoon Sea Salt – or to taste
Top with
1/2 Cup Green Onion – thinly sliced
1 Cup Cilantro Leaves – roughly
chopped
1 Jalapeno – thinly sliced – optional
1 Cup Tomato – wedges or diced
1 – 2 Avocados – thinly sliced or diced
*If you aren't vegan you can add some jack cheese.
Salsa of your choice. Here are a few I like to serve it with.
Instructions:
 Place the potatoes chunks into a large bowl filled with water.  Set aside
Roasted the poblano, remove stem and seeds, dice and then refrigerate.
Add the red pepper, jalapeno and fresh cut corn to a covered bowl and refrigerate.
In another covered bowl, add the cilantro, green onions and jalapeno and refrigerate.
 Add the onions to a saute pan with olive oil and saute on medium-low heat for 5 minutes. Add the garlic and jalapeno then continue cooking for an additional 5 – 7 minutes or until the garlic starts to become golden.  Stir in the red pepper, poblano and corn.  Cook for a couple additional minutes and take off the heat.  Set aside.
Put the potatoes in a 5 quart pot covered with water, and add the vinegar.  Bring to a boil, then turn the heat down to medium low and continue to cook for about 8 minutes.  You want them to be soft but still a little firm.  Strain.  In a large skillet add the olive oil and turn the heat to medium high heat.  When the oil becomes hot, add the potatoes.  Let them brown a little before stirring.  Add the ancho powder, paprika and salt; then continue to stir and cook until they are golden brown.  Add the onion mix, stir well and continue to cook for a couple minutes until the entire mixture is hot.
Serve with a wedge of lime, tomatoes, avocado and the cilantro mix.