This is a very unique appetizer!  The champagne vinegar soaked hibiscus flowers adds the perfect tang to the soft flavors of the chevre and the subtle sweetness of the blueberries.  Add all that onto a crunchy crostini and it's outstanding!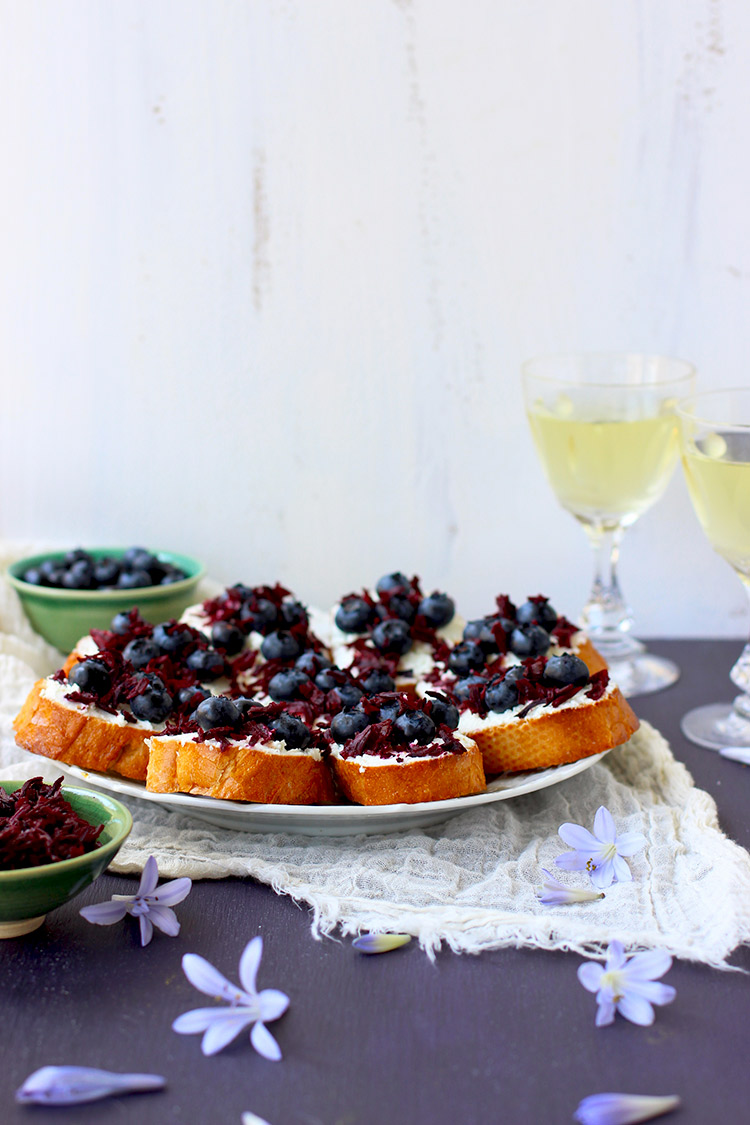 The 4th of July was always a big deal growing up in L.A.  A bunch of us would walk the beach from Santa Monica to Venice, from party to party, trying not to get hit by bottle rockets.  I remember the skies flooded with them.  It was kinda scary!  They don't allow that anymore.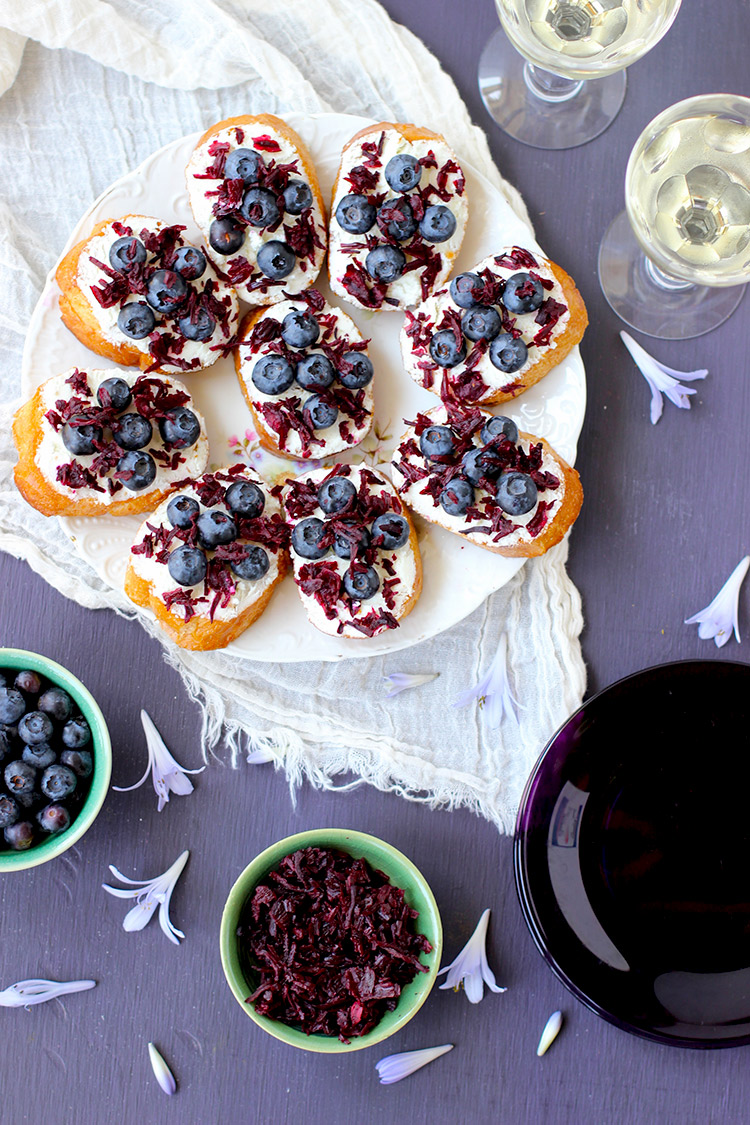 When I moved back to Venice for a few years in 2007, I did the 4th with at least 20 of our friends that all grew up together.  We were all on bikes crusin the boardwalk.  We rode to the Venice canals before the fireworks started and watched them from the top of a bridge with the best view.  It was always a lot of fun!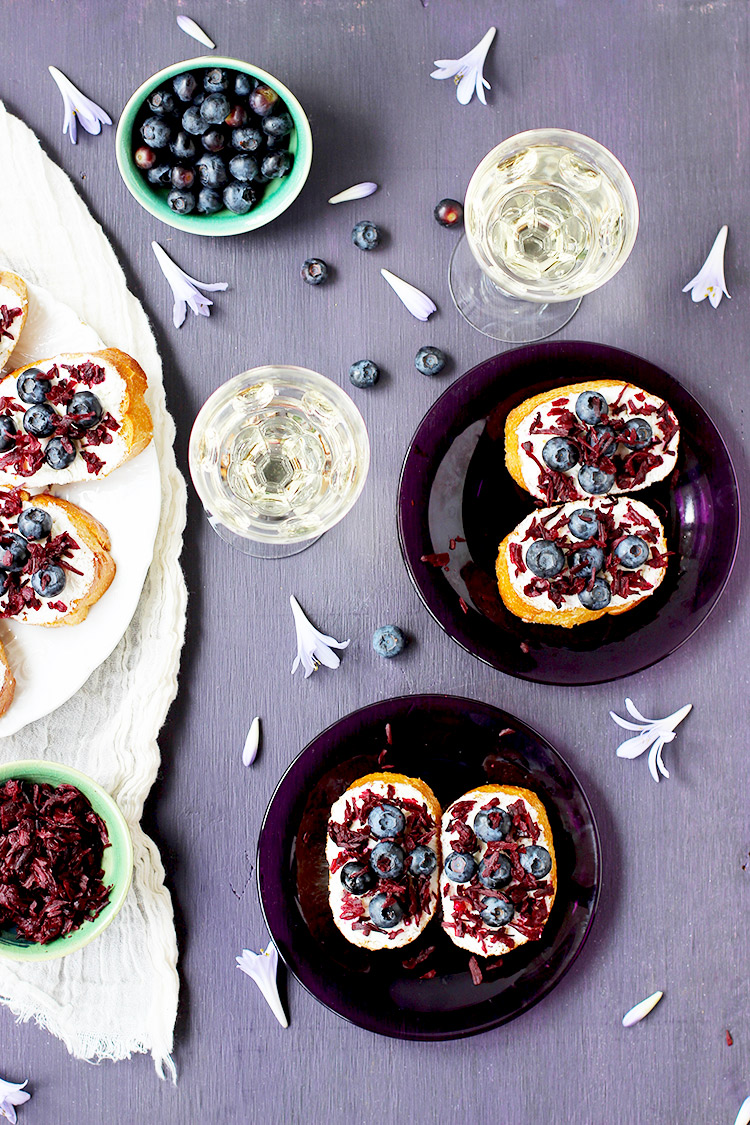 Tis the season for appetizers and with the 4th of July coming up, I can't think of a better appetizer than this red, white and blue crostini.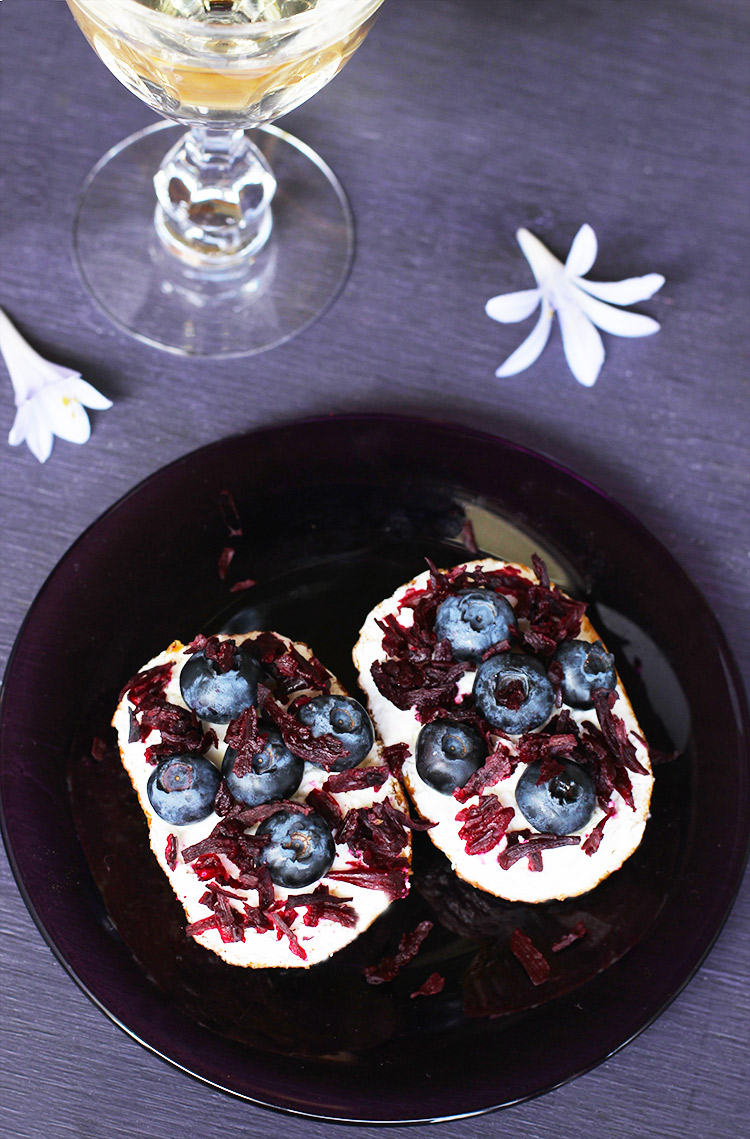 For a festive wine, I would pair these crostini with a Prosecco or a Cava.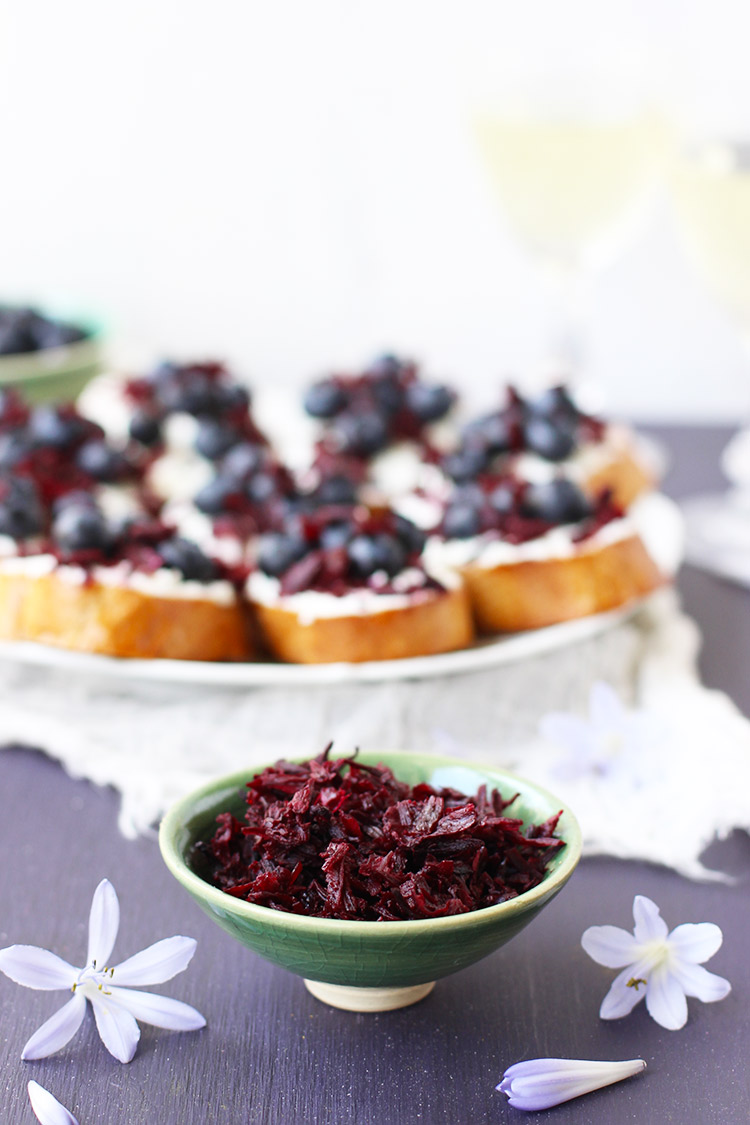 Recipe: 12 Crostini
12 Slices French Baguette
Approx. 5 oz. Chevre Goat Cheese – or to taste – room temperature
1 Container Blueberries – 5 to 10 per crostini
1/4 Cup Champagne Vinegar Soaked Hibiscus Flowers – or to taste

 
Instructions:
You will need to soak the hibiscus flowers in the vinegar for 4 days to a week. (I did a week) Follow this recipe.
 Make the crostini.  Let cool.  Spread the chevre on to the crostini and top with the blueberries and vinegar flowers.  Serve as is or drizzle with maple syrup.   I sometimes put them in the toaster oven for a minute or so, which is also really good!
 *You will have leftover hibiscus vinegar if you make the full recipe.  You could use the leftovers for salad dressings like this one.  You could also half the recipe.  Other uses for the leftover vinegar flowers would be as a topping on a sandwich, on a salad, or anywhere you would use any pickled vegetable.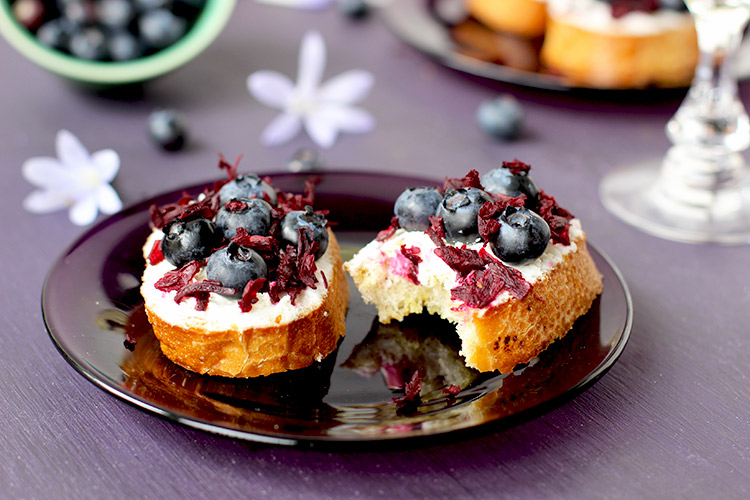 Health benefits:
Hibiscus Flowers is a simple way to increase your antioxidant intake due to the high vitamin C content.  The antioxidant properties can help reverse the inflammatory process in your body and has the ability to lower high blood pressure.  It protects against chronic disease, rheumatoid arthritis, diabetes, and cancer.  It helps lower "bad" LDL cholesterol from the body, therefore it helps protect against heart disease and blood vessels from damage.
Blueberries are high in Vitamin C. They are a super food and are one of the highest in antioxidants compared to most fruits. They are a great source of fiber. The fiber helps reduce abdominal fat, lower cholesterol and helps lower glucose. They are great for brain health, reducing the risk of Alzheimer's disease and they are known to heal damaged brain cells. So they help you keep your memory intact.