This dish is a nice twist on an au gratin.  I love how the hazelnuts add a nice crunchy top and the butternut squash lightens it up while the sage pesto brings on a whole new richness.
I wanted to make a au gratin that was a bit lighter and healthier than the classic style.  Although it still has cheese and a little butter I used 1% milk instead of half and half and hazelnuts instead of bread crumbs.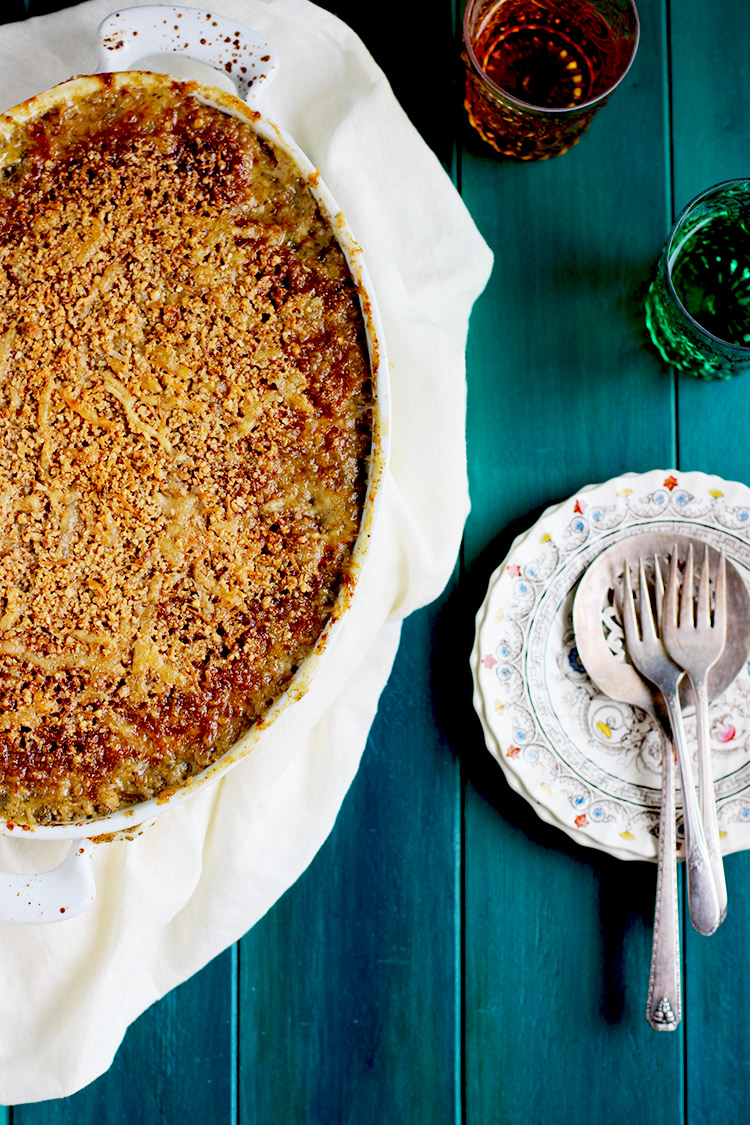 Gratins originated in France.  It is a dish that has a golden crust on top typically from the addition of either bread crumbs or cheese and are served in a shallow casserole dish.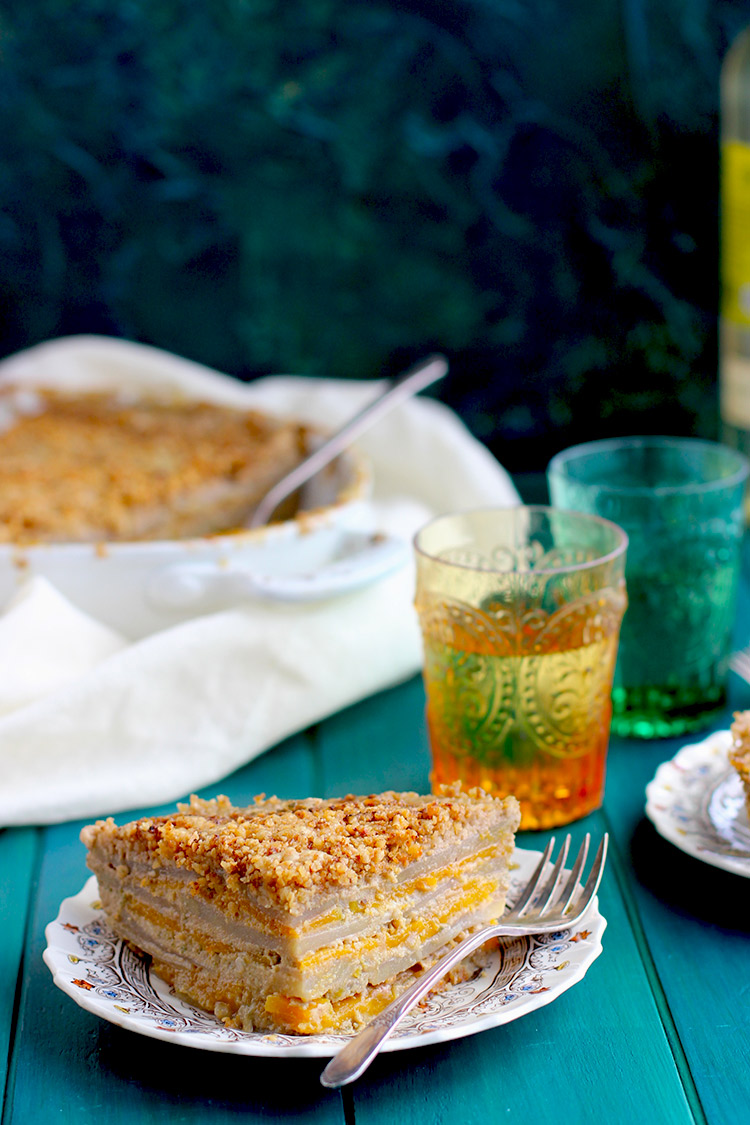 This gratin goes with a Riesling, Gewürztraminer, Pinot Gris, Verdejo, Rose, Pinot Noir, Merlot, Red Rioja or a Petite Sirah
 Recipe: 8 – 10 Servings
Toasted hazelnuts
1 Cup Toasted Hazelnuts – ground (can substitute almonds or panko bread crumbs)
 Sage Pesto – About 1 Cup
1 Cups Fresh Sage
1/2 Cup Toasted Walnuts
1/2 Cup Asiago Cheese
2 Tablespoons Extra Virgin Olive Oil
1  Cloves Garlic
1 Tablespoons Fresh Squeezed Lemon Juice
1/4 Teaspoons Sea Salt or to taste
Casserole
1 1/2 lbs Yellow Potatoes – 1/8 inch slices (about 5 cups sliced) discard the ends
1 lbs Butternut Squash – 1/8 inch slices (about 5 cups sliced) I used the neck only
1/2 White Onion – diced
2 Cloves Garlic – minced
1 Tablespoon Extra Virgin Olive Oil
1/4 Cup Dry White Wine
2 Tablespoons Salted Butter
2 Tablespoons Brown Rice Flour
2 1/2 Cups Milk (I used 1% organic)
1 1/2 Teaspoon Sea Salt
1 Cup + 1/2 Cup Gruyère Cheese – shredded and divided
1 Cup + 1/4 Cup Pecorino Romano – finely shredded and divided
Instructions:
 Toast hazelnuts, remove skins and let cool.
 In a food processor, grind the hazelnuts into a fine crumble.
 Make the pesto
Slice the potatoes and set aside in a bowl of water.
 Peal the squash and cut the neck into thin slices (I use a kitchen scale, if you don't have one you will have to put your gratin together and if you need more use the bottom, cut in half and scoop out the seeds then thinly slice.
 Grate the cheese, mix 1 cup each of grayer and of pecorino, put in a bowl and set aside
 Mix the remaining 1/2 cup grayer, 1/4 cup pecerino and the hazelnuts together then set aside.
 Mince the shallots and garlic, add to a large heavy saucepan, sauté in olive oil over medium-low heat, stirring until the onion is softened and the garlic starts to brown (about 10 – 12 minutes).
 Add the wine and let reduce to a syrup.
 Next, add the butter and salt to the onions. When butter is melted, stir in the flour and cook the mixture, continue to stir for about 2 minutes.
 Add the milk a little at a time (this is important) while whisking constantly and bring the liquid to a boil then reduce heat to a simmer.  Add the cheese a little at time and stir until the cheese is completely melted.  Add the pesto and mix in completely.
Drain potatoes and pat dry with kitchen towels.
Set aside 1 cup of sauce to make sure you have enough for the top two layers.
Spread a thin layer of sauce in 2 1/2-quart casserole dish.  Layer potatoes (if you have some that are thicker than 1/8 inch place them on the outside and the thinner pieces in the middle)  then spread a thin coat sauce over the potatoes then layer squash and repeat until the last two layers.  With the 1 cup of sauce you set aside, pour half over second to last layer then add last layer and pour the rest of the sauce over.
 Pre heat oven to 375
 Bake uncovered 1 hour on the middle shelf.  (I put a baking sheet below to catch any juices that overflow)
 Check on it at 45 minutes and push down the top potato slices with a spoon to let juices cover potatoes again.
 Mix remaining cheese and the ground hazelnuts together then sprinkle over potatoes.  Bake uncovered for 20 minutes longer or until top is brown and bubbly.
 Poke a knife thru the center to make sure potatoes are soft, if not bake a bit longer.  (You can put some foil on top if you don't want it any darker on top.)
 Let sit in a warm place for 20 minutes before serving so that the liquids will set.  (Depending on how old your squash is, it may produce some water)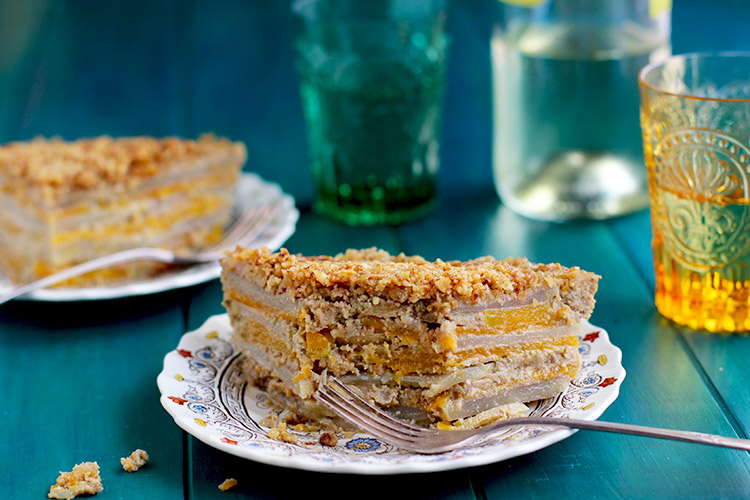 Health Benefits:
 Yellow Potatoes – Yukon gold's content of potassium is higher than many foods and can help reduce the risk of hypertension and stroke. They have twice the amount of vitamin C as a Russet, which helps protects your cells from free-radical damage. Yukon's are rich in B6 and antioxidant properties. It has a bit of Iron but the C helps the body absorb it. They contain fiber that helps reduces cholesterol, stabilizes blood sugar, helps prevent constipation and aids in weight loss,
Butternut Squash is a great source of fiber and folate making it heart and bowel healthy it has an abundance of carotenoids that is great for eye health and also helps protect against heart disease and very high levels of beta-carotene.  It regulates blood sugar levels helping to reduce the risk of type 2 diabetes and increasing energy levels.  It has a significant amounts of potassium and vitamin B6 which is great for the nervous and immune systems.  A 1-cup serving gives about half the recommended amount of antioxidant-rich vitamin C.  Winter squash also helps in the prevention of prostate, colon, lung & breast cancers.
Sage helps to enhances concentration, attention span and quickens the senses.  Its effects help deal with grief and depression.  It is useful for all types of bacterial infections.  Helps detoxify and cleanse the blood.  The herb reportedly restores color to gray or white hair.  It is also high in antioxidants. Sage is exceptionally rich source of several B-complex, it contains a very good amounts of vitamin A, beta-carotene, and C It is a rich sources of minerals like potassium, zinc, calcium, iron, manganese, copper, and magnesium *Those with epilepsy, high blood pressure, or kidney disease may be adversely affected by the thujone content and should avoid large doses of sage Other posts