This is a flavor packed Mexican au gratin with a delicious roasted poblano cheese sauce that won't disappoint!
This gratin is a real treat, especially if you like Mexican food as much as Robby and I do!  It is true comfort food for both of us.  Making a dish like this for Robby is an expression of my love for him.  After my restaurant, I had no desire to cook for many years.  However, that all changed when Robby and I got together.  I got my passion back!  The whole act of cooking is so much more than just cooking.  Its inspiring, creative, fills the room with aromatic scents of love and brings people together!  What was the last thing you were inspired to make for that special someone?
I enjoyed this with a glass of Verdejo.  It will also go great with a Mexican beer of your choice.
 Recipe: 9 – 12 Servings
1 1/2 Cups Dried Black Beans 3 1/2 Cups Cooked + 1 1/2 Teaspoon Salt
12 Cups Filtered water – add more as needed

3 Poblano Peppers – roasted – diced

2 1/2 + 1 Cups Jack Cheese – shredded

1/3 Cup Raw Almonds – ground  – was 3/4 cup

1 Cup Cilantro Leaves

1 1/2 lb Yukon Gold Potatoes – thinly sliced

2 Cloves Garlic – minced
1 – 2 Jalapeño Peppers – minced (optional)
1 Tablespoon Extra Virgin Olive Oil
1/4 Cup Dry White Wine
2 Tablespoons Butter
3 Tablespoons Brown Rice Flour (or regular all purpose)
3 Cups Milk – (I used 1 %)
2 Teaspoons Sea Salt ?
1/2 Cup Frozen Corn – or to taste
Garnish ideas: 
Black beans
1. Add the beans and water to a soup pot . Bring to a boil on medium-high heat and let boil until beans are soft about 1 1/2 hours.
2. Make sure to check on the water levels incase you need to add more.  It is better to have more water than less.
3.  When the beans are cooked pour into a colander, rinse and mix in a bowl with 1/2 teaspoon sea salt.
Poblano and cheese
1. While the beans are cooking, roast the poblanos.  Remove skin, de-seed and de-stem.  Cut a slit in the poblanos and lay flat on a paper towel and dry both sides.
2. While I am roasting the poblanos, I normally grate the cheese.  If you do this, make sure to check on the poblanos so you don't totally burn them.  Otherwise, finish roasting the poblanos and then grate the cheese.
3. Add 2 1/2 cups of the grated cheese to a bowl and set aside.
4. Put the remaining cup of grated cheese into a bowl, then grind the almonds in a food processor until it becomes a fine crumble, add them to the cup of cheese and mix  together.
Cilantro, potatoes and corn
1. Wash the cilantro and dry completely with some paper towels.  Pick the leaves off the stems and measure.  If still damp, dry them more.  Set aside.
2. Slice potatoes into thin slices (about 1/8-inch thick).  Add potatoes to a pot and cover with water then bring to a boil, continue to boil for 2 minutes.
3. Drain potatoes in a colander, rinse with cold water.  Dry them with a kitchen towel or a paper towel.  Set aside.
4. Bring a small pot of water to a boil, turn off the heat and drop the corn in just long enough to defrost.  Drain in a colander and dry them as best you can in a paper towel.  Set aside on a dry paper towel to collect any remaining water.
Sauce
1. Mince the garlic and jalapeño, add olive oil, garlic and jalapeño to a large heavy saucepan. Sauté over medium-low heat, stirring until the garlic is soft and starts to turn slightly golden,
2. Add wine and reduce to a syrup.
3. Add butter and salt.  When butter is melted, add flour and continue stirring for about 2 minutes.
4. Slowly add milk a little at a time (this is important) while whisking constantly. Bring liquid to a boil, continuing to stir then reduce heat to a simmer.  Add cheese a little at a time, stir until the cheese is completely melted.  Add the poblano and jalapeño, mix in completely.  Cook until sauce thickens.
Assemble
Pre-heat oven to 375
1. Spread a thin layer of sauce on the bottom of a 3 quart casserole dish.  Add a layer of potatoes (if you have some that are thicker than 1/8 inch place them on the outside and the thinner pieces in the middle)  then spread a thin coat of sauce over the potatoes.
2. Evenly spread out half of the black beans.  Next, add a little more sauce, another layer of potatoes and more sauce.
3. Evenly spread the remaining beans, cilantro, corn and add more sauce.  Add the last layer of potatoes, then the rest of the sauce.
4. Bake for 30 min uncovered on the middle rack.
5. Cover with foil and bake for 20 more minutes.
6. Take out of the oven and evenly spread the cheese and almond mix on top and put back in the oven for 15 minutes uncovered.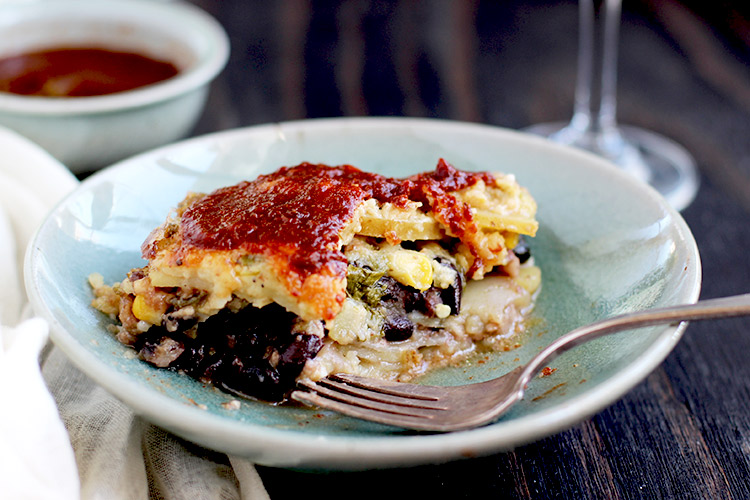 Health benefits:
Black beans are high in cholesterol lowering dietary fiber, 1 cup of cooked beans provides you with over 1/2 of your daily requirements and reduces blood cholesterol that helps prevent heart disease.   The fiber supports the digestive tract and the colon, which helps constipation, diverticulitis and other gastrointestinal disorders.  They also maintain normal blood sugar levels, helping to prevent diabetes.   Black beans are a very good meat substitute because of their 15 grams of protein in 1 cup and contain only trace amounts of saturated fat and no cholesterol.  They contain phytochemicals, substances found only in plant foods that help fight cancer and other chronic diseases.  They increase energy with the good amounts of iron in them and have more antioxidant activity than other types of beans. They neutralize cell-damaging free radicals that may help lower the risk of heart disease, cancer, and other diseases.  Black beans are also rich in B vitamins, Folate, potassium (helps regulate your blood pressure and heart rate), magnesium, calcium (builds and maintains bones) and other heart-healthy nutrients.
Poblano Peppers are extremely high in vitamin C; just one pepper has 95% of your daily value.  They are great for your immune system and help to reduce inflammation like in arthritis and asthma. They contain lycopene a powerful antioxidant, giving many fruits and vegetables their color, especially tomatoes, which is great for the prevention of cancers in the bladder, prostate, cervix and pancreas. They are also helpful with increasing oxygen so the body can burn more calories 20 minutes after eating peppers.  They're also full of vitamin A, vitamin K, and potassium.