This Kale Crispy Black Lentil Salad is beautiful, colorful and healthy with a great mix of flavors and textures!  There is bountiful crunch from the crispy lentils, almonds and kale and dreamy softness form the mozzarella and tomatoes.  It has a spectrum of flavors from the basil, almonds and the slightly spicy.  It's just an all around great salad!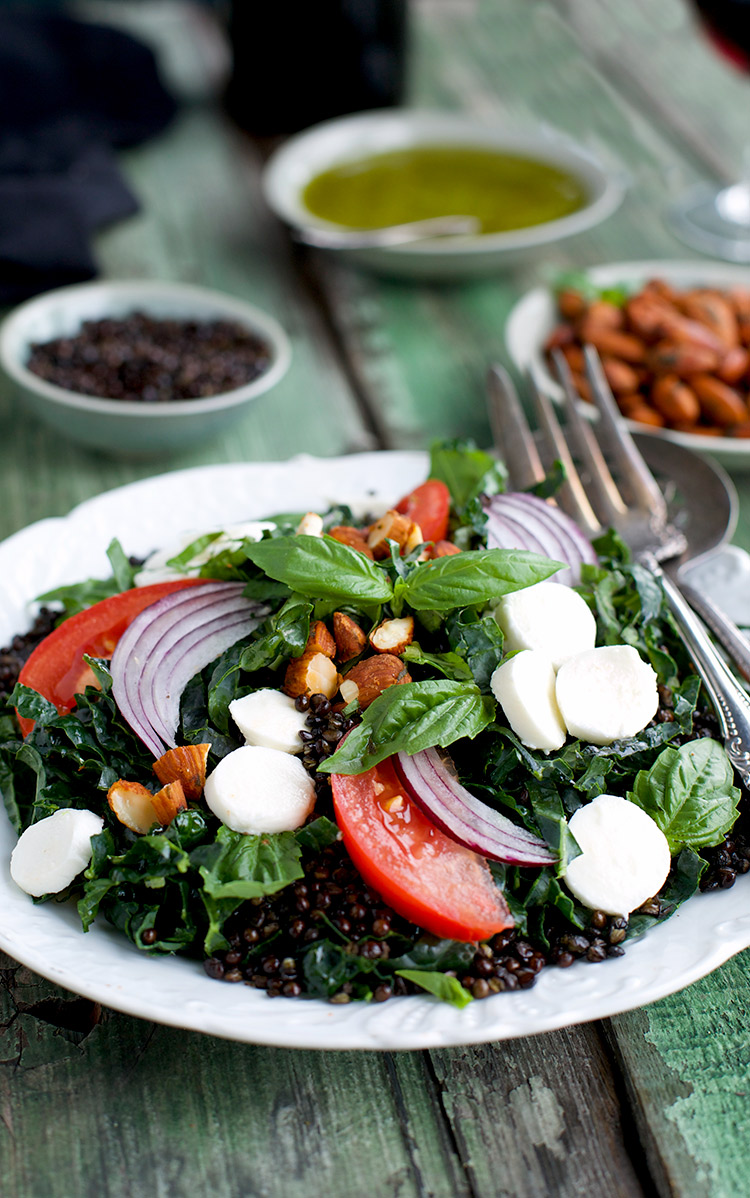 I am so excited right now!  Robby bought an old 68 blue Schwinn 3 speed bike to ride when I ride my rusty red 79 Schwinn 10 speed bike.  I didn't have any extra money to spend on a bike when I first moved back to Venice beach in 2007.  (you can read about my leap of faith move here) You really need a bike when you live in Venice if you don't want to go insane with all the traffic and circling the neighborhood for 15 minutes to 45 minutes looking for a parking space.  One day, my friends Beto and Brian called me and told me they had a surprise for me.  The surprise turned out to be a beat up rusty old red Schwinn bike they found in the alley.  They brought the bike to a bike shop that fixed it up just enough to make it rideable.  Actually, this was the best present ever!  I rode it every day.  I rode it to work and after work, I would go down to the boardwalk to ride it from my apartment on Rose Ave. to Temescal Canyon Blvd and back while the sun was setting.  I especially loved that it was rusty and somewhat trashed because I could lock it up almost anywhere without having to worry about it getting stolen.  I would ride it to my friends' houses, the health food store, to the pier every Thursday night for the Twilight concert series and to parties.  It was perfect!
When I moved to Santa Cruz, Robby and I rode his mountain bikes a few times but we really just wanted to cruise around on comfortable bikes.  My poor red bike hadn't been ridden in 5 years.  Lucky for me, Robby is now on a mission to fix up both of our old Schwinns.  He bought vintage handlebars, stem, seat, fenders, front wheel, a little round reflector for the rear fender, brake pads, brake cables, etc.  He cleaned years of grime and dirt off of both of them as well as a complete overhaul to make them ride better than new.  There is still a little rust on the frame of my bike just to remind me of the great times I had with it in Venice.  We wanted them to look vintage so we chose not to completely restore them which we think gives them more character.  I cannot wait to go for a ride on our new old bikes.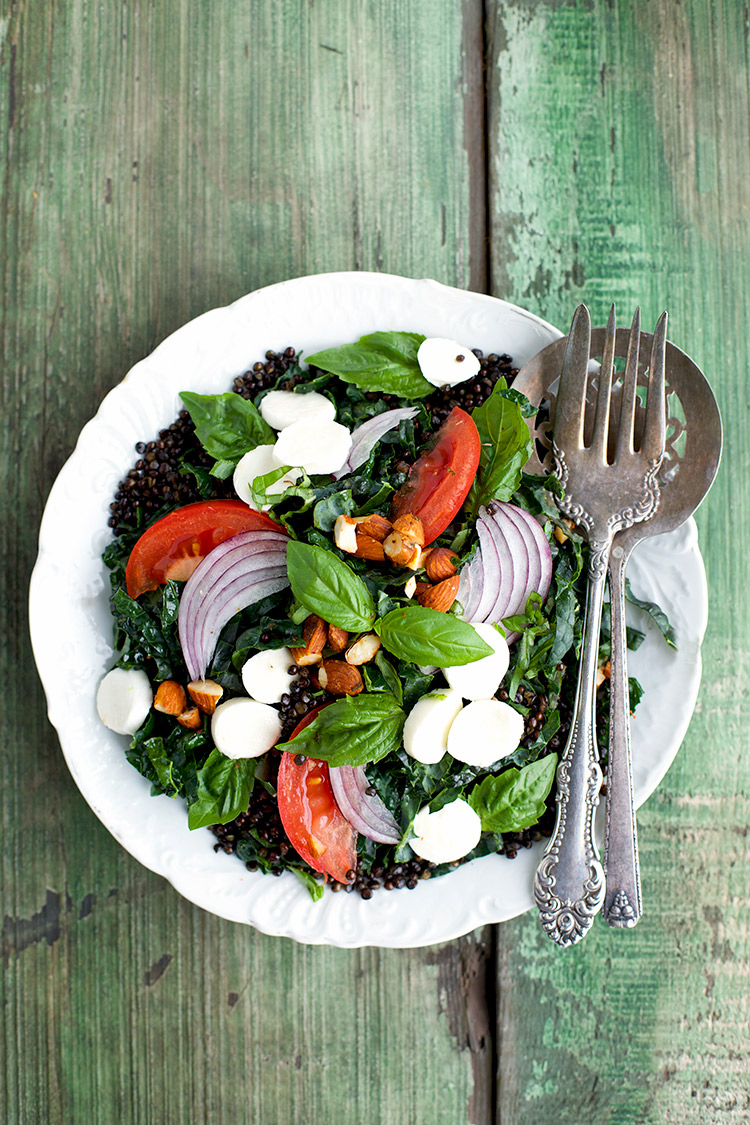 This salad goes great with a Chianti, Tempranillo, Pinot Noir or a Grenache for a red or a Pinot Gris, Soave  or Sauvignon Blanc for a white.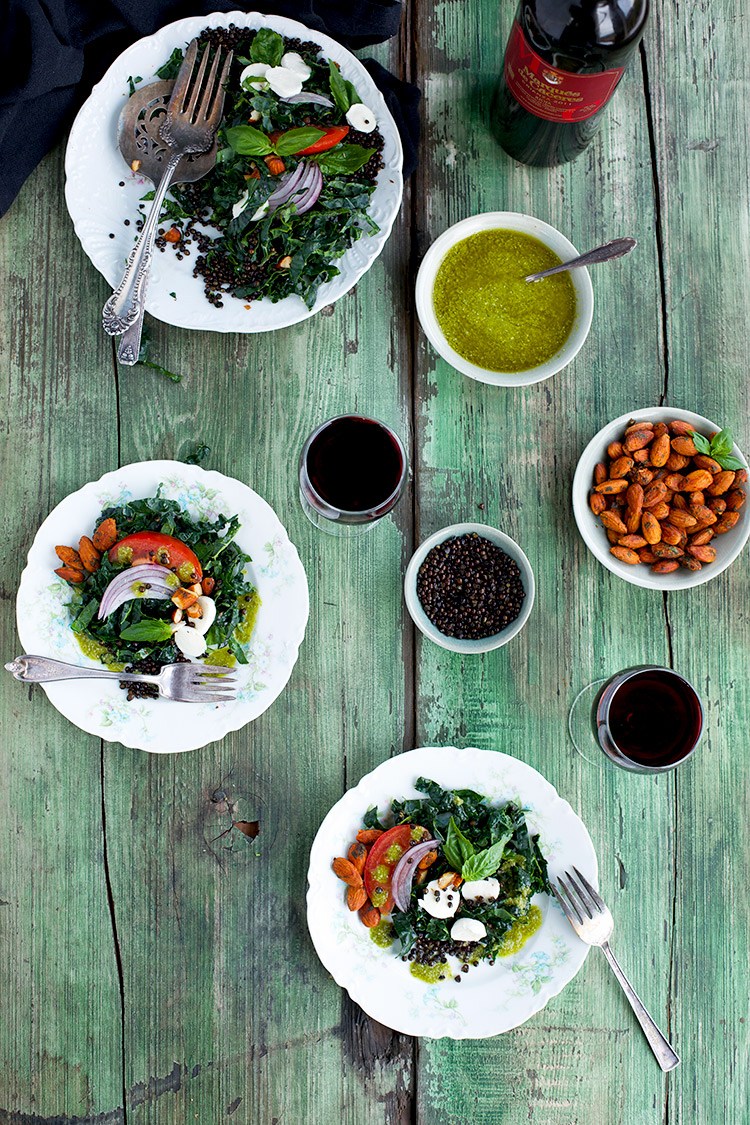 Kale Crispy Black Lentil Salad
Recipe: 4 to 6 servings
1 Cup Crispy Black Lentils – roasted – recipe below
1 Recipe Arugula Pecorino Vinaigrette – recipe below
1 1/2 Cups Tomato Basil Almonds – recipe below
1 Head Dino Kale about 7 cups – washed – deribbed – thinly chopped
2 Tomatoes  – wedged or diced
1 Container Small Fresh Mozzarella – thinly sliced or quartered
1/4 Red Onion – thinly sliced or diced
1  Cup Basil – packed – chiffonade
1 1/2 Cups Raw Almonds
1 Tablespoons Extra Virgin Olive Oil
2 Tablespoons Tomato Sauce (Bionaturae strained tomatoes was the brand used here)
1/3 Cup Basil – minced
1 -2  Cloves Garlic – minced
1 Teaspoons Sea Salt
Arugula Pecorino Vinaigrette
1 Small or 2 Tablespoons Shallots – minced
1 Small Garlic – minced
1 1/2 Cups Arugula
1 Serrano Pepper – optional
1/4 Cup Champagne Vinegar
1/2 Cup Extra Virgin Olive Oil
1/4 Cup Pecorino – shredded
1/2 Teaspoon Dijon Mustard
1/4 Teaspoon Sea Salt
Dash Black Pepper
Crispy Black Lentils
1/2 Cup Black Lentils –  uncooked
1/2 Teaspoon Sea Salt
Drizzle Extra Virgin Olive Oil
Instructions:
Tomato Basil Almonds
Preheat oven to 350 degrees
Mince the garlic and basil add to a bowl, add the olive oil, almonds, tomato sauce and sea salt then mix well and spread evenly onto a baking sheet.
Bake for 20 – 25 minutes, stir halfway.
Let cool completely.  *While the almonds are cooking and cooling make the vinaigrette.
Arugula Pecorino Vinaigrette
In a food processor, add everything except the minced shallots and garlic.  Puree then add to a jar with the shallots and garlic and shake well.
The Rest
You can either mix the kale, tomatoes, mozzarella, onion and basil together and top individual salads with the almonds, lentils and dressing.
 Or, place the kale onto a large platter place the tomatoes all around and do the same with mozzarella, onion, lentils and basil and top individual salads with the almonds and dressing.
* To keep the almonds and lentils crunchy, you will want to add them at the end.
*
Health benefits:
 *