This Coconut Basil French Green Lentil Soup is a "warming of the soul" kind of soup, with its subtle flavors of Indian spice.  The fresh basil, cilantro, kale and lime give it a nice fresh quality while the lentils satisfy your hunger.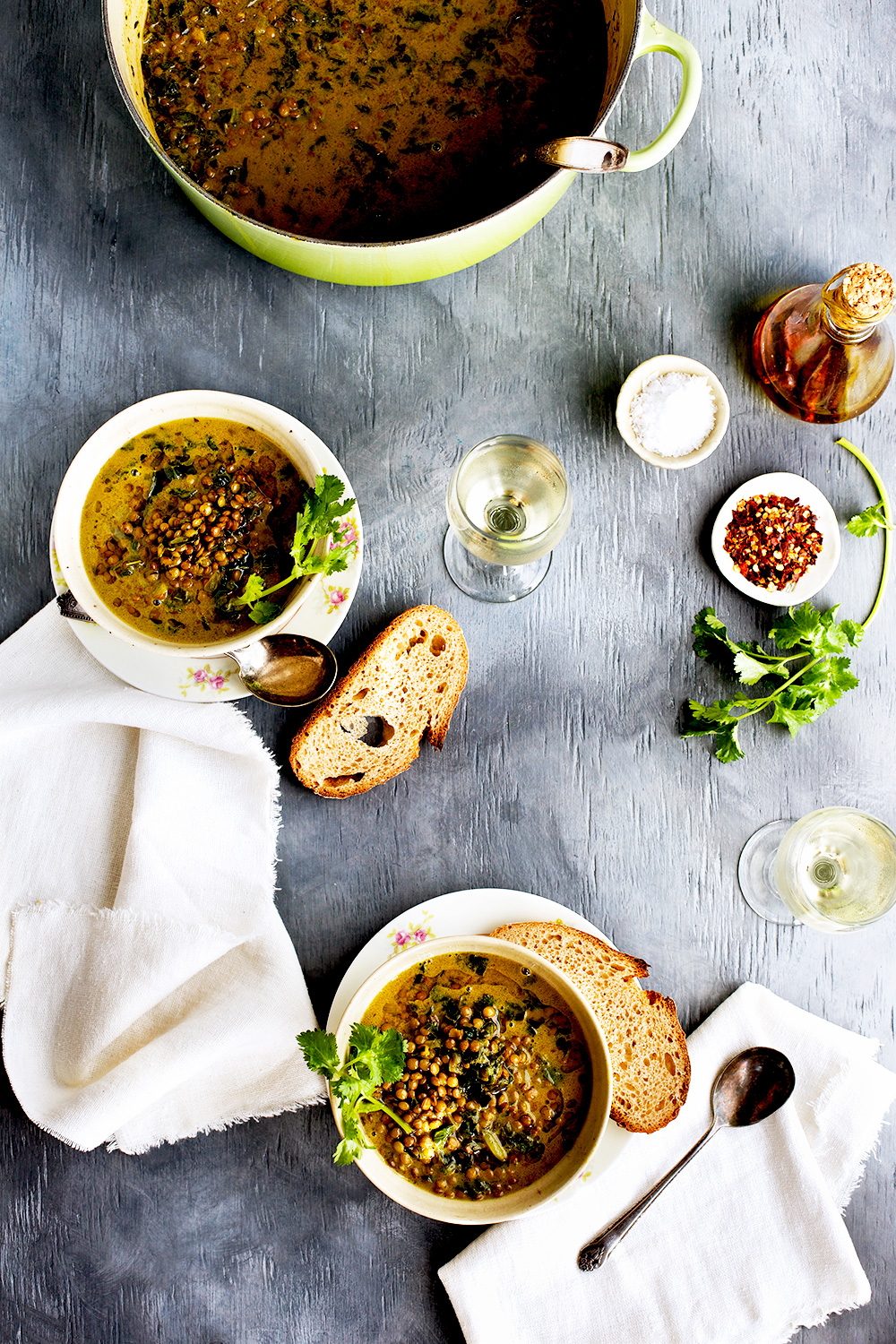 This is a versatile soup that you can leave as it is or puree it then add the kale, basil and cilantro in at the end.  Serve it with a loaf of fresh crusty bread.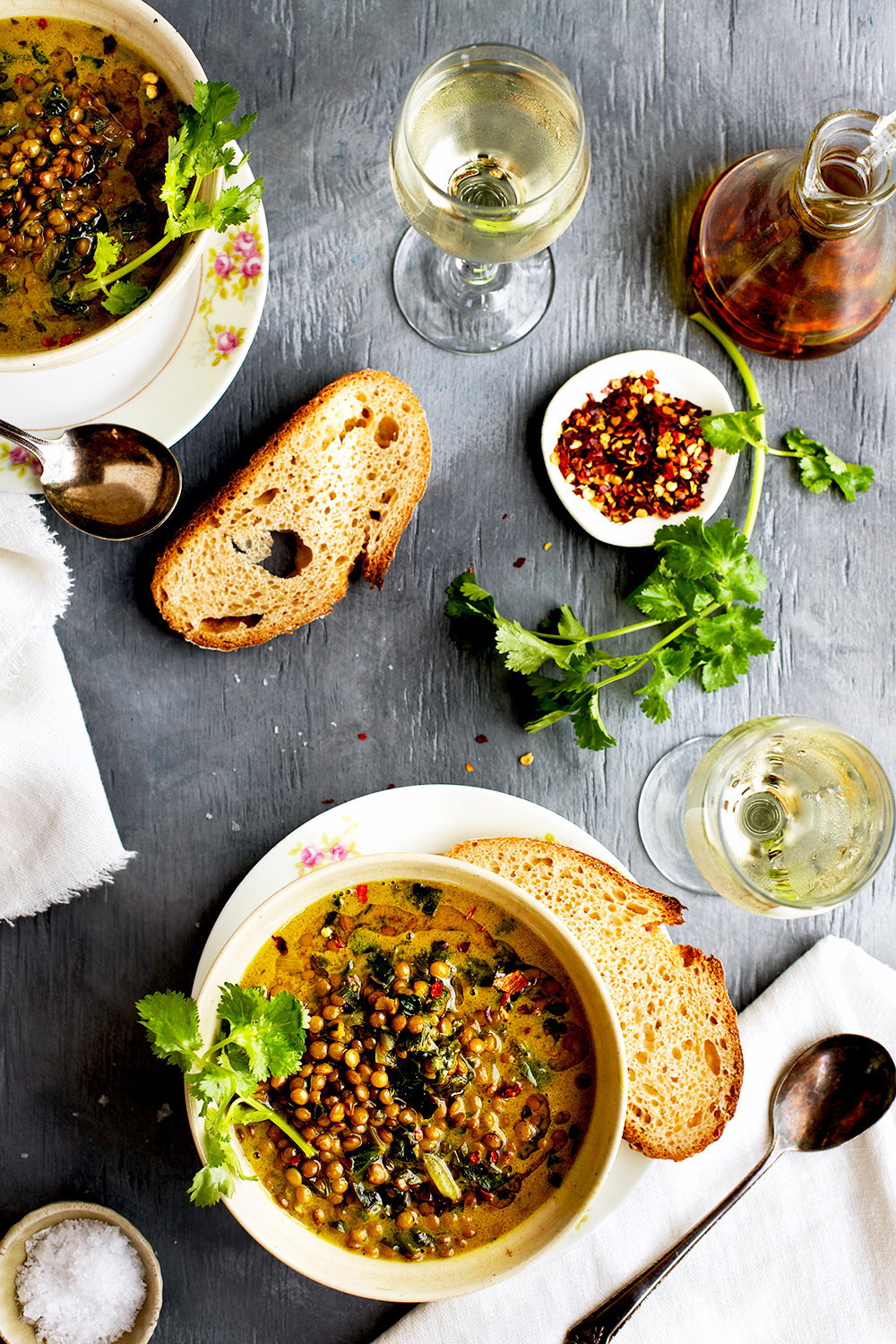 I like this soup with a dry or ever slightly sweet white wine like a Pinot Gris, Gewürztraminer, Riesling, Sauvignon Blanc or a white Rioja.
Coconut Basil French Green Lentil Soup Recipe:
6 – 8 Servings
2 Cups French Green Lentils
8 Cups Filtered Water (or vegetable stock)
2 Tablespoons Coconut Oil
1/2 Onion – diced
2 Cloves Garlic – minced or pressed
1/3 Cup Dry White Wine – or water
1 Bouillon Cube – unsalted (omit if using vegetable stock)
1 Tablespoon Turmeric
1 Teaspoon Thyme
1/2 Teaspoon Gram Marsala
1 Teaspoon Paprika
1/2 Teaspoon Cayenne Pepper
1 Can Coconut Milk – full fat
2 Cups Fresh Basil – or to taste – minced
2 Cups Cilantro – or to taste – minced
2 Cups Kale – about 6 leaves – rib removed, thinly sliced (optional)
2 Tablespoons Fresh Squeezed Lime Juice – or to taste
1 Tablespoon  Sea Salt – or to taste
1/4 Teaspoon Black Pepper – or to taste
Garnish options
Instructions:
Measure, sort and rinse lentils until the water runs clear.  Set aside.
In a 5 1/2 quart pot, heat the coconut oil over medium heat.  Add the onions and cook until they become soft.  (about 5 minutes) Next, add the garlic and stir until it just begins to brown then add the wine and bouillon cube.  Reduce until syrupy.
Next, add the water and lentils to the onions and bring to a boil then reduce to medium-low.  Cook until lentils are soft.  (about 20 minutes)
When the lentils are cooked, add the spices, coconut milk, basil, cilantro, kale, lime, salt and pepper.
 Cook for another 10 minutes, or until hot.
Health benefits:
Lentils have very high levels of soluble fiber and a good amount of insoluble fiber, which is a very good source of cholesterol-lowering fiber helps stabilize blood sugar levels giving you a steady steam of energy.  A half-cup provides about a third of the daily requirements.  Not only is the fiber good for your heart the amount of folate and magnesium is very beneficial for cardiovascular health.  They are loaded with an impressive amount of blood-fortifying iron and when paired with a food containing vitamin C, like citrus fruits or peppers the iron is enhanced, which can also increase your energy.  They are also a good source of potassium, calcium, zinc, niacin and vitamin K.  They are truly a nutritional fountain of youth.
Fresh Basil has anti-aging, anti-inflammatory and anti-bacterial properties.  The herb contains exceptionally high levels of beta-carotene and vitamin A and is rich in zeaxanthin an anti-oxidant that helps protect age-related macular disease.  It has a good amount of Iron and also helps to detoxify the liver.  It contains phytochemicals that may lower cortisol, a hormone secreted when you're stressed that causes weight gain, so add some fresh basil to your water or tea.