Nothing better than homemade pinto beans and re-fried beans, not only are they delicious they are extramly healthy .  I like to make a big batch to last the week, we eat a LOT of beans : )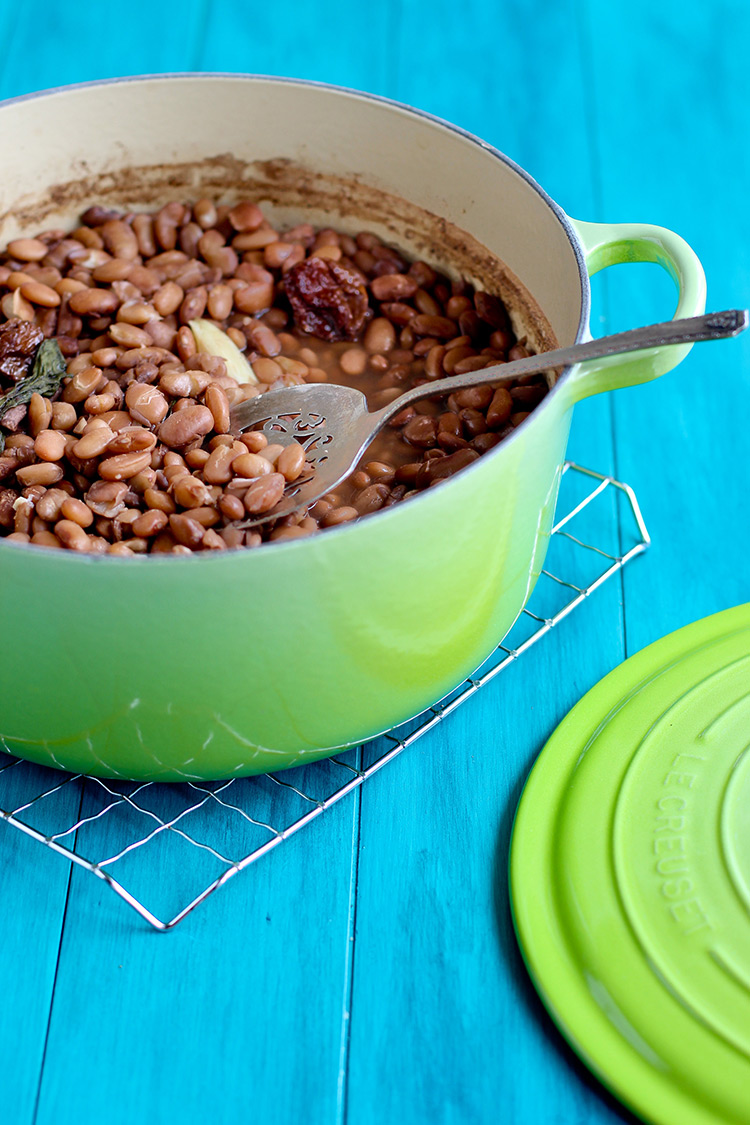 Recipe:  Approx. – 10 – 12 Servings
 4 Cups Pinto Beans
12 Cups Filtered Water plus about 4 – 6 more cups
1/4 Cup Extra Virgin Olive Oil
6 – 8 Cloves  Garlic
2 -3 whole dried chilies like new mexico, habanero, ancho or !0 arbol
Instructions:
In a 5 1/2 quart pot put small hand full of beans in the pot at one time, making sure there are no rocks. Then rinse the beans and add the water, garlic and chilies
Bring to a boil on medium high heat boiling for approx. 45 minutes or until water starts to evaporates and add more water then cook for another 45 minutes or longer still checking on water levels
* Add Sea Salt to taste AT THE END or they will be tough
Taste to see if soft, you want the water to be at the level of the beans , if they are soft turn heat down to medium low and add salt to taste and let cook for 5 more minutes to infuse salt
* It depends on how old the beans are as to how long it will take to cook, older beans will take longer
  I used 2 – 3 whole dried chilies like new mexico, habanero, ancho or !0 arbol chiles in place of chile flakes and added a few more cloves of garlic.
When the beans are soft remove the chilies
Leaving the water add olive oil to the beans then mash with a masher, I like to leave some of the beans whole
When the beans thicken up they are ready (if you feel they are to runny they will thicken up as they cool then you can reheat them)
* If you have a problem with gas you can bring the beans to a boil then turn off and cover for 1 to 2 hours then drain the water and add fresh water, garlic, and peppers.  Follow above directions for the rest
Or soak over night and follow above directions
Other posts