Stephanie was raised in Santa Monica, California, Aka: Dogtown.  After traveling to Asia and Europe in her 20s she settled down in Maui for a year then moved to Hood River Oregon, the windsurfing capital of the world!  At the age of 23, Steph opened and ran the very popular restaurant called Purple Rocks Art Bar and Café for 3 1/2 years.  At the time the town was only busy enough in the summers so she ended up selling it.  Steph then started her jewelry line consisting of all unique original designs called "Venezian". She sold to 23 stores on the west coast.  At the same time she designed 3 of the top selling hats for DaKine snowboarding accessories.
 Steph had been studying natural skin care for some time and decided to start her own essential oil skin care line.  She developed all her own recipes and named it "Flower of Flowers" after the flower "Ylang Ylang".  She took on a partner and they did skin care parties and sold to local health food stores. Her partner ended up moving to Maui and Steph decided to let the skin care line go and kept on with Venezian Jewelry.  She got a job at Flerchinger Vineyards (now known as Cathedral Ridge) for 4 years where she learned all about the winemaking process. This included the growing of different varietals, the different types of climates required for each type of grape, crushing methods, fermenting, filtering, bottling, labeling and educating customers in the tasting room!"
 Angela was born and raised in Hood River, Oregon in the beautiful Columbia Gorge, a small town 60 miles east of Portland, Oregon.  With two creative parents, Ang grew up creating, designing and dreaming of a career and lifestyle where she could utilize her natural creative talents.  Ang took a large interest in cooking at the age of 14 from her Arabic uncle with his incredible Middle Eastern recipes.  Ang started working for a local swim and equestrian apparel company named Kerrits.  She designed custom swimsuits for customers as well as they were distributed to stores throughout Portland and Seattle including Nordstrom.
Later, she decided to partner up with her mother, aunt and cousin to create a collaborative art co-op downtown Hood River called Interior Fusion. They displayed and sold all of their own art pieces, furniture and local artist's artwork as well. During this time she was also working alongside a women who ran an interior design and retail paint/window coverings business.  Ang gained a lot of experience in interior design, color, and faux finishing.  Ang was married at the time to a very talented musician, who taught guitar and singing lessons.  She did public relations for her husband's Portland band and traveled in the US and Canada doing all of the P.R., bookings, band identity and tour arrangements.
This is about the time where Steph and Ang met!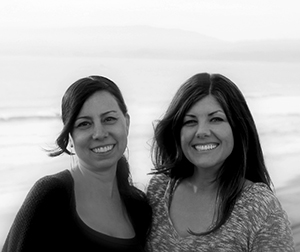 One day Steph decided to take singing lessons from a friend.  She had asked him if he knew of any female guitar players who might be interested in starting an all girl band and he introduced her to his wife Angela.  They hit it off instantly and then started a band called Scarlet Luxury.  They had a lot of fun, became great friends and continued to inspire each other from that point on.
After looking for more creative outlets, Ang and Steph put their creative forces together and started a faux finishing company where they painted in people's homes and businesses.  They had a lot of inspiring conversations while painting.  They both have a love for fashion, drawing, designing and conceptualizing all their ideas.  They decided to start an accessories line called "EvaRuna" that they worked on it in their spare time.  They developed a unique product and learned the ins and outs of the fashion industry.  They started working with a long time friend of Stephs who had been in the fashion industry for many years.  They learned it all, from writing a business plan, arranging photo shoots, creating line sheets, to samples and marketing their product.  After the recession was in full motion the two decided to move on.  Ang and her twin boys moved to Portland, Oregon and Steph moved back to Venice, California. The two have remained great friends and continually inspire each other.  A few years later, Stephanie who resides in Northern, California and Angela in Phoenix, Arizona thought it would be cool to bring all their recipes together and create a vegetarian food and cocktail blog.  Hence the name CaliZona!